Annual Subsidies for Affordable Housing
Affordable Housing Program (AHP) funds are intended to assist FHLB Dallas members in financing the purchase, construction and/or rehabilitation of owner-occupied, rental or transitional housing, as well as housing for homeless individuals in their community. AHP funds must be used to benefit households with incomes at or below 80 percent of the median income for the area.
Since the AHP's inception in 1990, FHLB Dallas has awarded more than $324 million in AHP and AHP set-aside programs, such as the Homebuyer Equity Leverage Partnership (HELP), Special Needs Assistance Program (SNAP) and Disaster Rebuilding Assistance, have assisted more than 56,500 households. See below for the recipients of the 2020 AHP subsidies.
Affordable Housing Program
Watch how BancorpSouth Bank and FHLB Dallas helped 25 elderly residents with critical home repairs in the historic Marcus Bottom neighborhood in Vicksburg, Mississippi.
---
Affordable Housing Program funds can be used for:
Acquisition
Down payment and closing costs
The refinance of an existing loan (provided that the equity proceeds are used for the development of AHP-eligible housing)
Rehabilitation or construction costs
Homebuyer education and counseling, if the household purchases an AHP-assisted unit
---
2020 Subsidy Awards
The Bank awarded $19.3 million in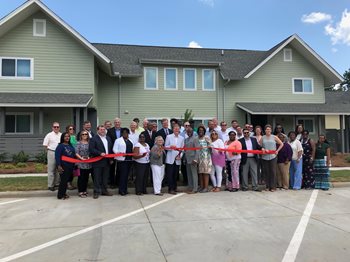 Affordable Housing Program (AHP) subsidies to 38 affordable housing projects. The subsidies will help create 2,749 new or rehabilitated housing units.

Details about the 2020 subsidy applications: