Membership Provides Strength in Numbers
Federal Home Loan Bank membership provides financial institutions additional fiscal strength to better serve their communities. The Federal Home Loan Bank of Dallas (FHLB Dallas) is one of 11 regional banking cooperatives that provide member institutions with wholesale lending, credit and related financial services to support its mission of affordable housing and economic development.
FHLB Dallas members also have access to value-added solutions and expertise. Members are served by more than 200 financial, risk management, technology and service experts. Each is dedicated to helping members maximize the benefits of FHLB Dallas products and services.
Click the

in the diagram below to learn more about your value of membership.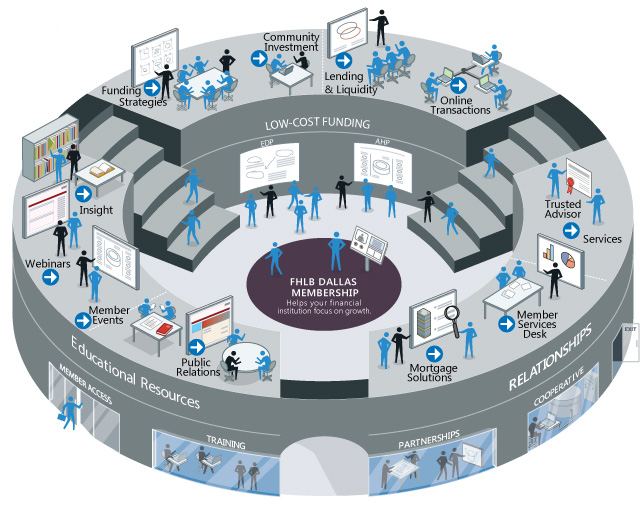 ---
See the Value of FHLB Membership
FHLB Dallas provides value to members in many ways, including access to low-cost funding, educational resources and relationships. Every aspect of our partnership with members is guided by our number-one value at FHLB Dallas: Members First.
Membership Advantages
Enhanced asset/liability management
Improved liquidity management
Cost-effective access to credit and capital
Responsive member services
More effective risk management
Access to AAA/AA credit ratings through Letters of Credit