If it Matters, We're Talking About It
FHLB Dallas publishes a variety of publications to promote and support the work of the organization and our member institutions. We pride ourselves on generating insightful and relevant content for our readers and exploring issues that matter.
Read the following helpful and informative content from FHLB Dallas.
---
Annual Report
Our 2019 annual report, ​Building Bridges, features members who are using FHLB Dallas products to build stronger and more enduring relationships with their customers.
---
Corporate Social Responsibility Report
FHLB Dallas is committed to not only serving its members, but also building stronger communities by encouraging its employees to give their time and talents to charities they are impassioned about; strengthening the economic development of communities served by our members, via our grant programs; and empowering our employees through training and development and the fostering of a diverse and inclusive environment. Learn more about how at our core, we are "Rooted in Service," the theme of the 2019 Corporate Social Responsibility Report.
---
Dividends
In this issue of Dividends, read the inspiring stories of how member financial institutions used the federal government's Paycheck Protection Program to support businesses and communities impacted by the coronavirus. You'll also learn about the new normal of the virtual workplace and get the latest on FHLB Dallas' acceptance of eNotes as collateral. Read the latest issue of Dividends.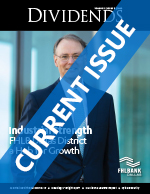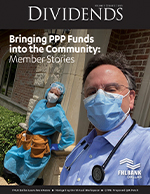 ---
Legislative Updates
Keep up to date with recent legislative and regulatory activity of interest, plus hot-topic news and issues relevant to FHLB Dallas' members. Read the latest issue of
Policy Pulse
.
---
Advisory Council Annual Report
We publish a report annually that highlights the affordable housing and community investment activities of members that actively use FHLB Dallas CICA programs. Read about the impact our programs and members are having on their communities and their investments in affordable housing and economic development activities in the 2019 Advisory Council Annual Report.
---
Solutions Member Newsletter
Solutions is our newsletter for members and the community organizations that partner with them. See how our members are using FHLB Dallas grant programs and credit products, learn about our activities in the communities and get the latest information on upcoming events and important grant announcements. Read the latest issue of Solutions.