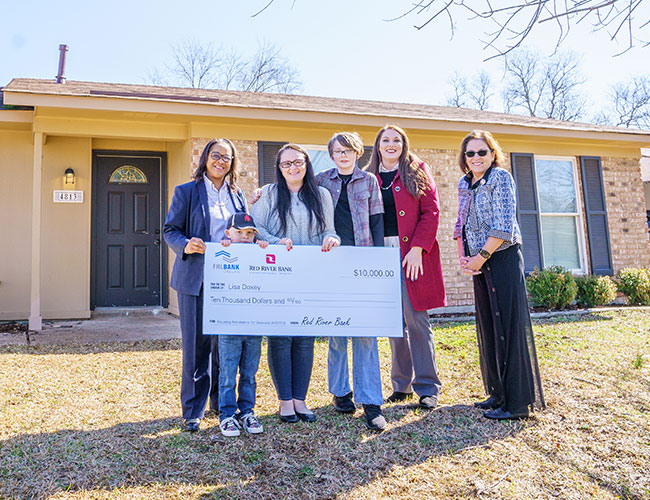 U.S. Marine Corps veteran Lisa Doxey and her two sons have a place to call home, thanks in part to a $10,000 Housing Assistance for Veterans (HAVEN) grant from Red River Bank and the Federal Home Loan Bank of Dallas (FHLB Dallas).
HAVEN provides grants to veterans and active-duty, reserve or national guard service members who have been disabled in the line of duty since August 2, 1990. The program originally only included individuals who became disabled as a result of their military service since September 11, 2001, but the criteria was expanded. The funds may also be used to assist Gold Star Families impacted since August 2, 1990.
Health issues led Ms. Doxey, still in her 30s, to leave the military and be placed on full disability.
"I wanted a better home for myself and my children, but I was so unsure how I would come up with the closing costs. With rising interest rates, the cost was more than what we anticipated," she said.
During Ms. Doxey's research into opportunities that could assist her in securing a home loan, she came across the HAVEN program online and reached out to Red River Bank, an FHLB Dallas member.
"Red River Bank exists to serve the people in our communities like our veterans have done for us," said Judy Madison, vice president of Community Outreach and Mortgage Lending at Red River Bank. "It is a pleasure to help our communities obtain homeownership. The journey of homeownership is an exciting one and it means so much to assist them."
To learn how HAVEN assists veterans in the communities you serve, watch this
video
, see our HAVEN webpage at
fhlb.com/haven
and read a related story in this issue of Solutions about
expanded eligibility
for HAVEN grants.