---
Trustmark National Bank and FHLB Dallas Give Wings to Mississippi Mom's Homeownership Dream
$15K in Down Payment Assistance Facilitates Home Purchase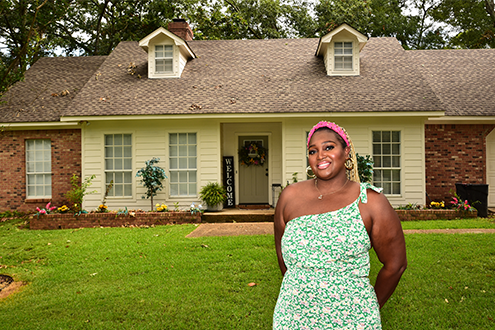 CLINTON, MISSISSIPPI, August 8, 2023 — After giving birth to her fourth child, Amber Cole knew it was time to move on from her cramped apartment. Aided by a $15,000 Homebuyer Equity Leverage Partnership (HELP) subsidy from the Federal Home Loan Bank of Dallas (FHLB Dallas), through member Trustmark National Bank, she was able to buy her first home.

FHLB Dallas set aside $6.5 million of its 2023 Affordable Housing Program funds for HELP. Through member institutions, HELP assists income-qualified, first-time homebuyers with down payments and closing costs.

Ms. Cole, 36, discovered the HELP program through her mortgage company, Trustmark National Bank, an FHLB Dallas member institution. She applied the subsidy toward down payment and closing costs on a four-bedroom, single-family home in Clinton, Mississippi.

"This house is what I've always dreamed of," said Ms. Cole. "I now live in a district with a great school system and my neighbors have been so supportive since I moved in. I finally have the right house to raise my family."

Trustmark National Bank played a vital role in the homebuying process, from start to finish.

"Every customer has unique financial needs, and we are delighted that we could understand and fulfill Ms. Cole's," said Jaime Sisson, vice president, fair and responsible banking – senior CRA manager at Trustmark National Bank. "We strive to be there for our customers and are proud to have supported Ms. Cole as she took this important step."

HELP enables member institutions to expand their financial reach and serve more customers, fulfilling their biggest dream along the way — homeownership.

"With 22 HELP grants worth more than $300,000 since the beginning of the year, Trustmark National Bank has made a sizable commitment to supporting first-time homebuyers," said Greg Hettrick, senior vice president and director of Community Investment at FHLB Dallas.

Visit fhlb.com/help to learn more about the program.

About Trustmark National Bank
Trustmark National Bank is a subsidiary of Trustmark Corporation, a financial services company providing banking and financial solutions through offices in Alabama, Florida, Georgia, Mississippi, Tennessee and Texas. Visit trustmark.com for more information.

About the Federal Home Loan Bank of Dallas
The Federal Home Loan Bank of Dallas is one of 11 district banks in the FHLBank System created by Congress in 1932. FHLB Dallas, with total assets of $174 billion as of June 30, 2023, is a member-owned cooperative that supports housing and community development by providing competitively priced loans and other credit products to approximately 800 members and associated institutions in Arkansas, Louisiana, Mississippi, New Mexico and Texas. For more information, visit our website at fhlb.com.

---
Contact Information:
Corporate Communications
Federal Home Loan Bank of Dallas
fhlb.com
214.441.8445