---
Hancock Whitney Bank and FHLB Dallas Award $253K in Relief Funding to Rebuilding Together New Orleans

Disaster Rebuilding Assistance Program Helps Homeowners Recover and Repair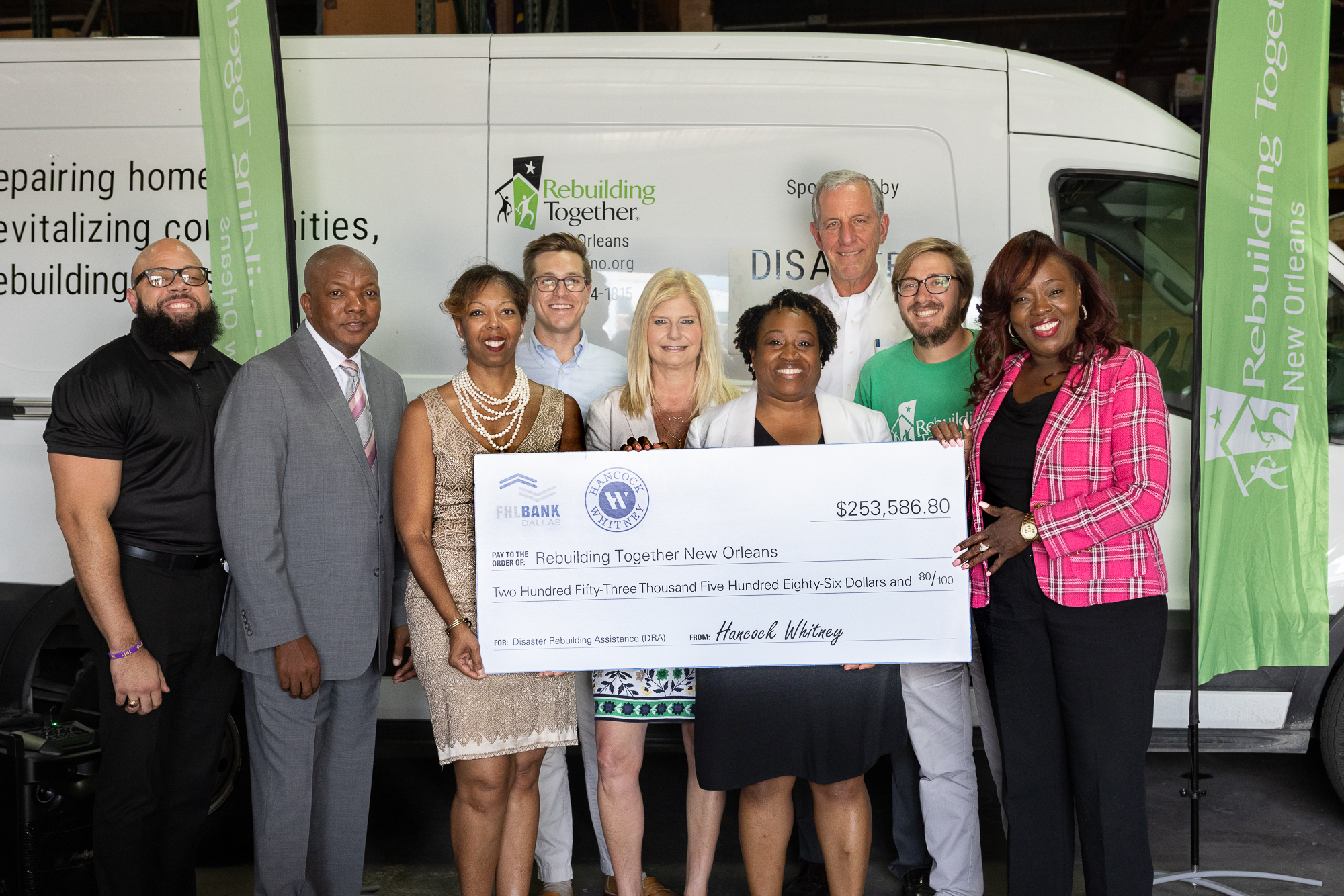 NEW ORLEANS, LOUISIANA, June 9, 2023 — Hancock Whitney Bank and the Federal Home Loan Bank of Dallas (FHLB Dallas) celebrated awarding more than $253,000 in Disaster Rebuilding Assistance (DRA) funds today in a ceremonial check presentation to Rebuilding Together New Orleans.

The nonprofit is using the funds to rehabilitate and strengthen storm-damaged New Orleans, Louisiana, communities impacted by Hurricane Ida.

Administered through member institutions, DRA subsidies provide funds up to $12,000 for the repair and reconstruction of owner-occupied housing affected by a disaster event in federally declared disaster areas within the FHLB Dallas five-state District.

"Thanks to this generous funding, we will be able to provide crucial repairs to homeowners in greatest need in the New Orleans area," said Rebuilding Together New Orleans Executive Director William Stoudt.

Representatives from the banks joined leaders of Rebuilding Together New Orleans at their Marias Street warehouse to celebrate. FHLB Dallas set aside $1.5 million of its 2023 Affordable Housing Program funds for DRA, and all funds have been fully allocated.

"New Orleans has endured catastrophic weather events throughout its history," said LaCarsha Babers, vice president and community outreach officer at Hancock Whitney Bank. "It is an honor to invest in the rehabilitation of New Orleans for today and tomorrow with the help of DRA funds."

"DRA has been in high demand due to the number of storms that have hit the Gulf Coast region," said Greg Hettrick, senior vice president and director of Community Investment at FHLB Dallas. "Hancock Whitney Bank's involvement in DRA continues to make a direct and positive impact on storm victims."

For more information about DRA, visit fhlb.com/dra.

About Hancock Whitney
Since the late 1800s, Hancock Whitney has embodied core values of Honor & Integrity, Strength & Stability, and Commitment to Service, Teamwork, and Personal Responsibility. Hancock Whitney offices and financial centers in Mississippi, Alabama, Florida, Louisiana, and Texas offer comprehensive financial products and services, including traditional and online banking; commercial and small business banking; private banking; trust and asset management services; healthcare banking; and mortgage services. The company also operates loan production offices in Nashville, Tennessee, and metropolitan Atlanta, Georgia. More information is available at www.hancockwhitney.com.

About the Federal Home Loan Bank of Dallas
The Federal Home Loan Bank of Dallas is one of 11 district banks in the FHLBank System created by Congress in 1932. FHLB Dallas, with total assets of $181.2 billion as of March 31, 2023, is a member-owned cooperative that supports housing and community development by providing competitively priced loans and other credit products to approximately 800 members and associated institutions in Arkansas, Louisiana, Mississippi, New Mexico and Texas. For more information, visit our website at fhlb.com.


---
Contact Information:
Corporate Communications
Federal Home Loan Bank of Dallas
fhlb.com
214.441.8445