---
First-Time Homebuyer Receives $15K in Down Payment Assistance
Trustmark and FHLB Dallas Award Funds to Single Mom of Three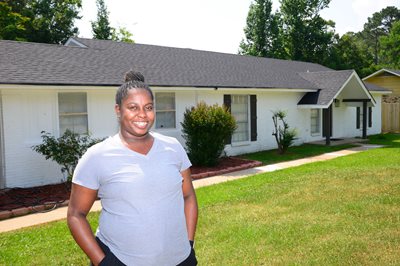 JACKSON, MISSISSIPPI, June 26, 2023 — Julisa Jones achieved a milestone this year. She purchased her first home, thanks in part to $15,000 in down payment assistance from Trustmark National Bank (Trustmark) and the Federal Home Loan Bank of Dallas (FHLB Dallas).

Ms. Jones, a 29-year-old single mom of three, was ready to stop renting and purchase her first home. Working as a shift manager at a specialty coffee retailer, Ms. Jones is the sole provider for her household. With the lease on her rental home ending soon, she worried about how she would come up with the money needed to purchase in time.

"The lease on our rental home was ending and I didn't think I would be able to save up enough money in time," she said.

She learned of the Homebuyer Equity Leverage Partnership (HELP) program when she applied for a mortgage loan through Trustmark. FHLB Dallas provided a $15,000 HELP subsidy through its member financial institution, Trustmark, to assist Ms. Jones with downpayment and closing costs.

Without this subsidy, Ms. Jones said that she and her family would not have been able to purchase their home and would still be renting. "I didn't want to rent anymore. I wanted a home we could call our own. HELP changed my life and gave us the opportunity to do that."

In 2023, FHLB Dallas set aside $6.5 million of its Affordable Housing Program funds for HELP. Through member institutions, like Trustmark, HELP assists income-qualified, first-time homebuyers with down payment assistance and closing costs.

Trustmark has leveraged the FHLB Dallas HELP program for 16 years to help people become homeowners.

"Trustmark has always had a commitment to serving our community, and we are delighted that through our partnership with HELP individuals in our communities have an opportunity to achieve the American dream and own their own home," said Jaime Sisson, senior compliance risk manager and vice president of Trustmark.

Since HELP's inception in 2002 through December 31, 2022, more than 6,000 homebuyers have received assistance through the program to become first-time homeowners.

"Trustmark's consistent use of HELP throughout the years has made a difference in the lives of more than 100 residents who are homeowners as a result," said Greg Hettrick, senior vice president and director of Community Investment at FHLB Dallas.

Learn more about HELP at fhlb.com/help.

About Trustmark
Trustmark National Bank is a subsidiary of Trustmark Corporation, a financial services company providing banking and financial solutions through offices in Alabama, Florida, Georgia, Mississippi, Tennessee and Texas. Visit trustmark.com for more information.

About the Federal Home Loan Bank of Dallas
The Federal Home Loan Bank of Dallas is one of 11 district banks in the FHLBank System created by Congress in 1932. FHLB Dallas, with total assets of $181.2 billion as of March 31, 2023, is a member-owned cooperative that supports housing and community development by providing competitively priced loans and other credit products to approximately 800 members and associated institutions in Arkansas, Louisiana, Mississippi, New Mexico and Texas. For more information, visit our website at fhlb.com.


---
Contact Information:
Corporate Communications
Federal Home Loan Bank of Dallas
fhlb.com
214.441.8445