---
Federal Home Loan Bank of Dallas and Home Bank Award $480K for Affordable Housing in Opelousas
Gulf Coast Housing Partnership to Extend Existing Development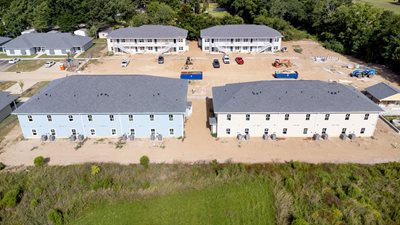 OPELOUSAS, LOUISIANA, August 4, 2023 — The Federal Home Loan Bank of Dallas (FHLB Dallas) awarded a $480,000 Affordable Housing Program (AHP) subsidy through its member, Home Bank, to Gulf Coast Housing Partnership (GCHP) to offset construction costs for a multifamily affordable housing subdivision near Opelousas, Louisiana.

The funding will assist New Orleans-based GCHP in completing Country Ridge Estates North, a 32-unit affordable extension of Country Ridge Estates, a GCHP affordable housing development that opened last year. The 33,500-square-foot community will include four eight-plexes with a community facility, off-street parking, a landscaped courtyard and a paved walking trail. The $8.9 million project is expected to open late this year or early next year.

"Thanks to this critical funding from Home Bank and FHLB Dallas, GCHP can finish the full scope of this master planned, quality affordable housing community and amenities for the citizens of Opelousas," said Kathy Laborde, GCHP president and CEO. "We are grateful for the support provided by Home Bank and FHLB Dallas."

Home Bank Senior Vice President and Community Development Director Kelvin Luster said Home Bank's partnership with FHLB Dallas has helped it meet the community's growing need for affordable housing.

"Providing for life's basics, such as housing and accessible amenities, is part of the bank's core mission," Mr. Luster said. "GCHP has a long history of creating high-quality affordable housing in Louisiana, and FHLB Dallas's AHP funds have helped provide valuable gap funding on a number of these projects."

AHP funds are intended to assist FHLB Dallas members in financing the purchase, construction and/or rehabilitation of owner-occupied, rental or transitional housing and housing for homeless individuals. The funds must be used to benefit households with incomes at or below 80 percent of the median income for the area.

"We appreciate the opportunity to support Home Bank's and GCHP's affordable housing vision for this rural area of Louisiana," said Greg Hettrick, senior vice president and director of Community Investment at FHLB Dallas.

In its most recent funding round, FHLB Dallas awarded $17.2 million in subsidies to 26 affordable housing projects. These subsidies are helping to fund projects that have created or will create 2,022 new or rehabilitated housing units, including 562 units in Louisiana.

For more information about the AHP, visit fhlb.com/ahp.

About Home Bank, N.A.
Home Bank, N.A., founded in 1908 as Home Building & Loan, is the oldest financial institution founded in Lafayette Parish. Home Bank now serves markets in South Louisiana, Mississippi, and Texas in 43 locations. Home Bank is committed to serving the needs in their communities. Personal banking has always been Home Bank's trademark and that tradition continues as they grow, invest, and serve their clients and community. Every day, the Home Bank team lives out their values, focusing on integrity, innovation and a commitment to serving others. For more information about Home Bank, visit www.home24bank.com.

About the Federal Home Loan Bank of Dallas
The Federal Home Loan Bank of Dallas is one of 11 district banks in the FHLBank System created by Congress in 1932. FHLB Dallas, with total assets of $174 billion as of June 30, 2023, is a member-owned cooperative that supports housing and community development by providing competitively priced loans and other credit products to approximately 800 members and associated institutions in Arkansas, Louisiana, Mississippi, New Mexico and Texas. For more information, visit our website at fhlb.com.

---
Contact Information:
Corporate Communications
Federal Home Loan Bank of Dallas
fhlb.com
214.441.8445