Oil and Gas Activity Expands in Q1 as Optimism Returns
Activity in the oil and gas sector expanded strongly in first quarter 2021, starting the year on a dramatically positive note, according to the Dallas Fed Energy Survey.
FHLB Dallas Capital Markets Update
FHLB Dallas' Treasury department will provide a capital markets update on Monday, April 19 at 2:30 p.m. CT.
2021 Affordable Housing Program (AHP)
The 2021 AHP round will be open from April 1, 2021 at 7:00 a.m. CT to May 13, 2021 at 6:00 p.m. CT.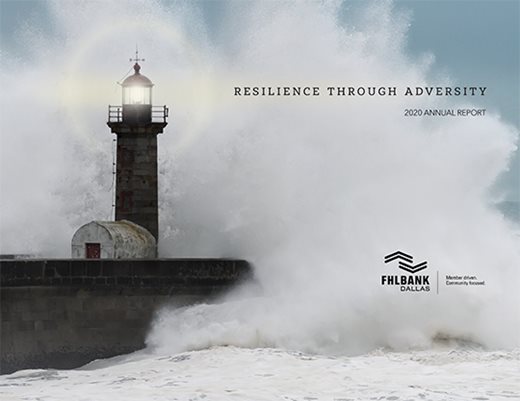 Our 2020 Annual Report, Resilience Through Adversity, features members who used FHLB Dallas special offerings and products to persevere during an unprecedented year.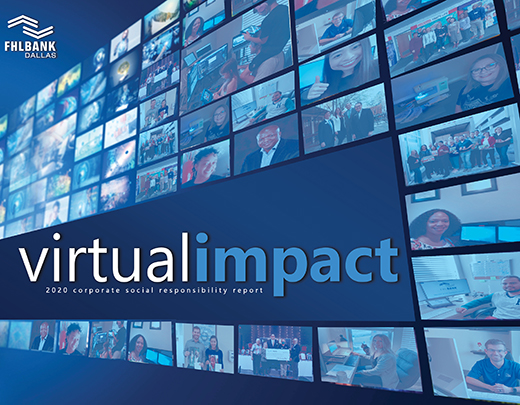 Corporate Social Responsibility
FHLB Dallas gave back and lived its Do Good value last year in several unique ways. Learn more about how the organization virtually impacted the community in the 2020 Corporate Social Responsibility Report.
Auction Type
Tuesday

April 13

Thursday

April 15

Short-Term

(less than one year) Starting at 9:00 a.m. CT

NO

YES

Reverse Auction

(two- to 10-years) 8:30 a.m. - 9:30 a.m. CT

YES

NO
Auction Type
Tuesday

May 11

Thursday

May 13

Short-Term

(less than one year) Starting at 9:00 a.m. CT

NO

YES

Reverse Auction

(two- to 10-years) 8:30 a.m. - 9:30 a.m. CT

YES

NO
Auction Type
Tuesday

June 15

Thursday

June 17

Short-Term

(less than one year) Starting at 9:00 a.m. CT

NO

YES

Reverse Auction

(two- to 10-years) 8:30 a.m. - 9:30 a.m. CT

YES

NO
April 30, 2021
10:00 AM - 11:15 AM
Webinar