---
Banks Provide Dallas Mother with $15K in First-Time Homebuyer Funds
Federal Home Loan Bank of Dallas and Trustmark National Bank Award HELP Subsidy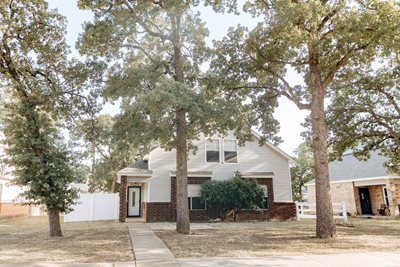 DALLAS, TEXAS, August 18, 2023 — Iliana Flores is a newly minted homeowner, thanks in part to $15,000 in Homebuyer Equity Leverage Partnership (HELP) funds from the Federal Home Loan Bank of Dallas (FHLB Dallas) through Trustmark National Bank.

FHLB Dallas set aside $6.5 million of its 2023 Affordable Housing Program funds for HELP. Through member institutions, HELP, whose funding has been fully allocated for 2023, assists income-qualified, first-time homebuyers like Ms. Flores with down payment assistance and closing costs.

The funds enabled the 38-year-old mother to make the down payment on a two-story, four-bedroom home in Dallas, Texas.

"My kids dreamed of a two-story home and I'm proud to have fulfilled their dream. HELP provided me with the confidence to clinch the deal," Ms. Flores said. "HELP can make the difference for those on a budget, and I now encourage everyone in the homebuying process to check if they are eligible."

FHLB Dallas member Trustmark National Bank worked with Ms. Flores in the process.

"We take great pride in customizing financial support to suit the needs of our customers and we're delighted to be a part of this momentous occasion for Ms. Flores's family," said Jaime Sisson, vice president, fair and responsible banking – senior CRA manager at Trustmark National Bank. "We aspire to increase homeownership in our communities and HELP is vital to achieving this goal."

Since the beginning of the year, Trustmark National Bank has assisted 23 homebuyers with more than $300,000 in HELP funds.

"Trustmark National Bank has made exemplary use of its FHLB Dallas membership via the HELP program to advance affordable homeownership across multiple communities in several states," said Greg Hettrick, senior vice president and director of Community Investment at FHLB Dallas.

Visit fhlb.com/help to learn more about the program.

About Trustmark National Bank
Trustmark National Bank is a subsidiary of Trustmark Corporation, a financial services company providing banking and financial solutions through offices in Alabama, Florida, Georgia, Mississippi, Tennessee and Texas. Visit trustmark.com for more information.

About the Federal Home Loan Bank of Dallas
The Federal Home Loan Bank of Dallas is one of 11 district banks in the FHLBank System created by Congress in 1932. FHLB Dallas, with total assets of $174 billion as of June 30, 2023, is a member-owned cooperative that supports housing and community development by providing competitively priced loans and other credit products to approximately 800 members and associated institutions in Arkansas, Louisiana, Mississippi, New Mexico and Texas. For more information, visit our website at fhlb.com.

---
Contact Information:
Corporate Communications
Federal Home Loan Bank of Dallas
fhlb.com
214.441.8445