---
A $10K Subsidy from FHLB Dallas and The First Bank Helps Mississippian Replace Hurricane-Damaged Roof
Disaster Rebuilding Assistance Helps Homeowners Recover from Storm Damage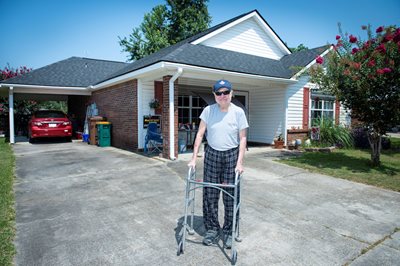 D'IBERVILLE, MISSISSIPPI, July 13, 2023 — The Federal Home Loan Bank of Dallas (FHLB Dallas) awarded nearly $10,000 through its member, The First Bank, to a D'Iberville, Mississippi, homeowner whose house was damaged when Hurricane Ida swept through town in August 2021.

Dana Dronet, 75, used the funds to replace the roof of his home.

Administered through FHLB Dallas member institutions, DRA provides up to $12,000 per homeowner for the repair and reconstruction of owner-occupied housing affected by a disaster in federally declared disaster areas within FHLB Dallas's five-state District of Arkansas, Louisiana, Mississippi, New Mexico and Texas.

Mr. Dronet and his caretaker, Ms. Corina Ladnier, learned of the program through acquaintances who put them in touch with Habitat for Humanity of the Mississippi Gulf Coast. Habitat assisted him with the application process.

"Before the support of Habitat for Humanity and The First Bank, we saw 15 roofers, none of whom presented us with a fair deal," said Ms. Ladnier. "Every time it rained, we were worried that the roof would cave in. Now, thanks to you guys, we have nothing to worry about."

FHLB Dallas set aside $1.5 million of its 2023 Affordable Housing Program funds for DRA, and all funds have been fully allocated. Check fhlb.com/dra in January for 2024 allocations.

"The DRA is an important tool to help our communities recover and rebuild," said Lauren Wilson, community development analyst at The First Bank. "The funds have helped in the economic rehabilitation of communities along the Mississippi Gulf Coast after Hurricane Ida wreaked havoc."

The First Bank has leveraged the DRA from FHLB Dallas to rehabilitate Mississippi communities, and since 2021, it has supported more than 100 residents with nearly $1 million in funds.

"The support provided by The First Bank ensures that homeownership remains affordable and accessible for present and future homeowners along the Gulf Coast," said Greg Hettrick, senior vice president and director of Community Investment at FHLB Dallas.

For more information about DRA, visit fhlb.com/dra.

About The First Bank
The First Bancshares, Inc., headquartered in Hattiesburg, Mississippi, is the parent company of The First. Founded in 1996, The First has operations in Mississippi, Louisiana, Alabama, Georgia, and Florida. The Company's stock is traded on NASDAQ Global Market under the symbol FBMS.

About the Federal Home Loan Bank of Dallas
The Federal Home Loan Bank of Dallas is one of 11 district banks in the FHLBank System created by Congress in 1932. FHLB Dallas, with total assets of $181.2 billion as of March 31, 2023, is a member-owned cooperative that supports housing and community development by providing competitively priced loans and other credit products to approximately 800 members and associated institutions in Arkansas, Louisiana, Mississippi, New Mexico and Texas. For more information, visit our website at fhlb.com.


---
Contact Information:
Corporate Communications
Federal Home Loan Bank of Dallas
fhlb.com
214.441.8445