---
$10K Grant from FHLB Dallas and Arvest Bank Helps National Guard Veteran 
Renovations Provide More Mobility in Her Home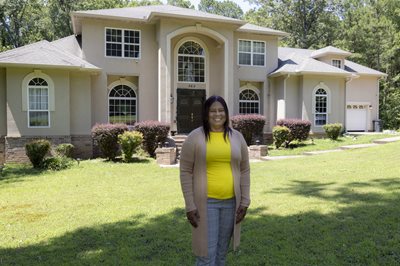 HENSLEY, ARKANSAS, July 3, 2023 — U.S. military veteran Tracy Hayes can move around her Hensley, Arkansas, home more easily thanks to a $10,000 Housing Assistance for Veterans (HAVEN) grant from the Federal Home Loan Bank of Dallas (FHLB Dallas) through its member, Arvest Bank (Arvest).

HAVEN provides grants to veterans and active-duty, reserve or National Guard service members who have been disabled in the line of duty since August 2, 1990. In addition, the funds may be used to assist Gold Star Families that were impacted during this time frame.

The funds for Ms. Hayes were used to replace her flooring and stairs and install a reinforced railing to help her get up and down the stairs. It's given her more mobility and peace of mind.

"It's brought me so much joy," she said. "It's so much easier to get up and down the stairs."

Ms. Hayes, now 52, served in the National Guard for 27 years. She says being in the military is a family tradition that goes back several generations. She was a logistics specialist and served two tours in Iraq. Today, she and her husband are involved with an outreach ministry that provides food and clothing to those in need.

Ms. Hayes heard about the HAVEN program from a contractor and fellow military veteran. Arvest staff walked her through every step of the process.

"I'm so grateful that this program exists," she said. "I would recommend it to any veteran. I know I speak for others when I say I am so appreciative."

FHLB Dallas has set aside $300,000 for HAVEN this year. Funds are awarded through member institutions, like Arvest Bank.

"It's so rewarding to be a part of this program," said Trisha Scott, executive assistant in Group Compliance CRA at Arvest, "You can see how it greatly improves the quality of life for those who served our country."

Arvest Bank has helped 20 veterans through the HAVEN program.

"Helping disabled veterans become more independent and comfortable in their homes is one of the most gratifying experiences," said Greg Hettrick, senior vice president and director of Community Investment at FHLB Dallas.

Learn more at fhlb.com/HAVEN.

About Arvest Bank
With more than $26 billion in assets, Arvest Bank is a community-based financial institution serving more than 110 communities in Arkansas, Kansas, Missouri and Oklahoma. Established in 1961, Arvest Bank is committed to meeting the needs of its more than 830,000 retail and business customer households by continually investing in the digital tools and services customers expect. Its extensive network of more than 200 banking locations provides loans, deposits, treasury management, credit cards, mortgage loans and mortgage servicing as a part of its growing list of digital services. Arvest is known for its commitment to the communities it serves and to attracting, hiring and retaining a diverse group of talented people. Arvest is an Equal Housing Lender and Member FDIC. To learn more please visit www.arvest.com.

About the Federal Home Loan Bank of Dallas
The Federal Home Loan Bank of Dallas is one of 11 district banks in the FHLBank System created by Congress in 1932. FHLB Dallas, with total assets of $181.2 billion as of March 31, 2023, is a member-owned cooperative that supports housing and community development by providing competitively priced loans and other credit products to approximately 800 members and associated institutions in Arkansas, Louisiana, Mississippi, New Mexico and Texas. For more information, visit our website at fhlb.com.


---
Contact Information:
Corporate Communications
Federal Home Loan Bank of Dallas
fhlb.com
214.441.8445