---
Two Port Arthur Homeowners Receive Hurricane Recovery Help
Hancock Whitney and FHLB Dallas Present Checks for Repairs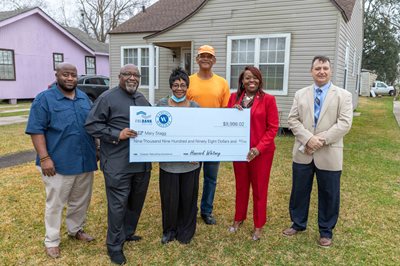 PORT ARTHUR, TEXAS, February 23, 2022 — Two homeowners whose properties were damaged by Hurricane Harvey received checks today from Hancock Whitney and the Federal Home Loan Bank of Dallas (FHLB Dallas) to help fund repairs needed due to water damage.

The homeowners were each presented with a check of nearly $10,000 each from FHLB Dallas' Disaster Rebuilding Assistance (DRA).

DRA subsidies provide funds up to $10,000 for the repair and rehabilitation of owner-occupied housing affected by a disaster event in federally declared disaster areas within FHLB Dallas' five-state District, which covers Arkansas, Louisiana, Mississippi, New Mexico and Texas.

The subsidy covered a wide variety of home repairs and renovations for the homeowners related to water damage from the hurricane, including subfloor and frame structure repairs, plus new baseboards, drywall and flooring.

"It was a relief to get these repairs, a very good blessing," said Patricia Chorm, one of the DRA recipients. "I would have visitors stop by, and I wouldn't let them in because of the condition of my home, and now I can invite them in."

Mary Stagg said her floors suffered extensive damage due to flooding in the aftermath of Hurricane Harvey.

"This means everything to me," Ms. Stagg said. "I wasn't able to afford to do these repairs. They would have been difficult to do even with a payment plan."

The Gulf Coast region is still recovering from Hurricane Harvey even though it has been more than four years since flooding devastated the area, said LaCarsha Babers, assistant vice president and community development officer at Hancock Whitney.

"We appreciate our partnership with FHLB Dallas in providing these funds to help these homeowners who have lived with the storm's devastation for so long," she said.

In 2021, FHLB Dallas funded 123 DRA subsidies totaling $997,736, and for 2022, it has set aside $750,000. Funds are disbursed through member institutions like Hancock Whitney on a first-come, first-served basis, one homeowner at a time.

"Natural disasters can bring devastating and long-lasting impacts on entire communities," said Greg Hettrick, first vice president and director of Community Investment at FHLB Dallas. "We are thankful for the opportunity to partner with Hancock Whitney to bring some relief to the area."

About Hancock Whitney
Since the late 1800s, Hancock Whitney has embodied core values of Honor & Integrity, Strength & Stability, Commitment to Service, Teamwork, and Personal Responsibility. Hancock Whitney offices and financial centers in Mississippi, Alabama, Florida, Louisiana, and Texas offer comprehensive financial products and services, including traditional and online banking; commercial and small business banking; private banking; trust and investment services; healthcare banking; certain insurance services; and mortgage services. The company also operates a loan production office in Nashville, Tennessee. BauerFinancial, Inc., the nation's leading independent bank rating and analysis firm, consistently recommends Hancock Whitney as one of America's most financially sound banks. More information is available at www.hancockwhitney.com.

About the Federal Home Loan Bank of Dallas
The Federal Home Loan Bank of Dallas is one of 11 district banks in the FHLBank System created by Congress in 1932. FHLB Dallas, with total assets of $63.5 billion as of December 31, 2021, is a member-owned cooperative that supports housing and community development by providing competitively priced loans and other credit products to approximately 800 members and associated institutions in Arkansas, Louisiana, Mississippi, New Mexico and Texas. For more information, visit our website at fhlb.com.


---
Contact Information:
Corporate Communications
Federal Home Loan Bank of Dallas
fhlb.com
214.441.8445