---
Special Needs Assistance Program Helps Mississippi Woman Repair Roof
Origin Bank and FHLB Dallas Provide Nearly $5K Toward Home Repairs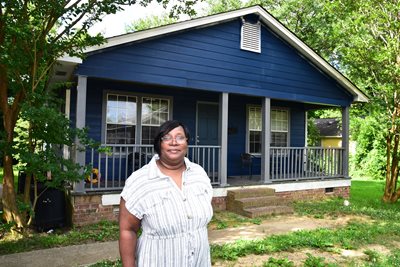 JACKSON, MISSISSIPPI, June 8, 2022 — Damitha Davis will always remember where she was on June 5, 2005. That was the day Ms. Davis, 58, walked through the door of her very own home in Jackson, Mississippi, one that she helped to build herself.

Ms. Davis put in 250 hours of "sweat equity" toward the construction of her home through Habitat for Humanity Mississippi Capital Area. Her five-bedroom, two-bath home would become a lovely nest for her and several of her nine children. But, over the years, the roof began to show signs of aging, and the cost to replace it was prohibitive.

Ms. Davis heard about the Special Needs Assistance Program (SNAP) through Habitat for Humanity Mississippi Capital Area and applied. She was approved for a $4,875 subsidy from Origin Bank and the Federal Home Loan Bank of Dallas (FHLB Dallas) to replace her roof.

Through member institutions such as Origin Bank, SNAP provides subsidies for the repair and rehabilitation of owner-occupied housing of eligible, special-needs individuals. The maximum SNAP award per household is $8,000. FHLB Dallas set aside $1.5 million of its 2022 AHP funds for SNAP.

"I wholeheartedly thank you all," Ms. Davis said. I thank God that I was able to get roofing on my house. It's wonderful because I don't have to worry."

Shelia Grayson, vice president, CRA & community development officer at Origin Bank, said the program is a wonderful way to assist members of the community who need it most.

"The SNAP program has been an amazing solution to help our special-needs individuals repair their homes," Ms. Grayson said. "Origin Bank cherishes being a part of the process that ensures community residents like Ms. Davis can live safely without worrying about the condition of their homes."

Greg Hettrick, first vice president and director of Community Investment at FHLB Dallas, commended Origin Bank for its commitment to the SNAP program.

"Making sure that your home remains in good condition is a difficult thing to do for many homeowners who are on fixed incomes," Mr. Hettrick said. "We are thankful for our partnership with Origin Bank to make these repairs possible."

To learn more about SNAP, visit fhlb.com/snap.

About Origin Bancorp, Inc.
Origin is a financial holding company headquartered in Ruston, Louisiana. Origin's wholly owned bank subsidiary, Origin Bank, was founded in 1912. Deeply rooted in Origin's history is a culture committed to providing personalized, relationship banking to its clients and communities. Origin provides a broad range of financial services to businesses, municipalities, high net-worth individuals and retail clients. Origin currently operates 44 banking centers located from Dallas/Fort Worth and Houston, Texas across North Louisiana and into Mississippi. For more information, visit www.origin.bank.

About the Federal Home Loan Bank of Dallas
The Federal Home Loan Bank of Dallas is one of 11 district banks in the FHLBank System created by Congress in 1932. FHLB Dallas, with total assets of $62.6 billion as of March 31, 2022, is a member-owned cooperative that supports housing and community development by providing competitively priced loans and other credit products to approximately 800 members and associated institutions in Arkansas, Louisiana, Mississippi, New Mexico and Texas. For more information, visit our website at fhlb.com.


---
Contact Information:
Corporate Communications
Federal Home Loan Bank of Dallas
fhlb.com
214.441.8445