---
Lea County State Bank and FHLB Dallas Provide Down Payment Assistance
Banks Award $10K Subsidy to Help Hobbs Resident Buy First Home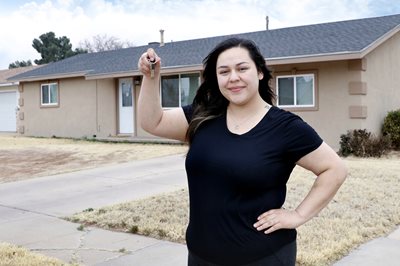 HOBBS, NEW MEXICO, June 1, 2022 — Victoria Piñon became a homeowner at the young age of just 26, thanks in part to the Homebuyer Equity Leverage Partnership (HELP), a program of the Federal Home Loan Bank of Dallas (FHLB Dallas) in which its financial institution members provide subsidies to help first-time homebuyers with down payment and closing costs.

Ms. Piñon, a Bank Secrecy Act analyst for Lea County State Bank, said she had been working in the fast-food industry before joining Lea County State Bank in customer service when she heard about, applied for and was awarded a HELP subsidy.

Through member institutions, HELP assists income-qualified, first-time homebuyers with down payment assistance and closing costs. FHLB Dallas disburses HELP funds to members on a first-come, first-served basis, one homebuyer at a time.

In Ms. Piñon's case, she was able to purchase a 1,200-square-foot, three-bedroom home on a corner lot with the assistance of a $10,000 HELP subsidy.

"I had been living with my parents for about two years while saving money for a house. Eventually, I started looking," she said. "HELP assisted with both the down payment and closing costs, which helped out a lot, particularly since I had to buy a new refrigerator, washer and dryer."

Lea County State Bank Senior Vice President Dickie Wall said the bank has assisted several new homeowners over the past few years amid rising costs.

"Escalating home prices and rising rents are major barriers for first-time homeowners, especially when it comes to saving for a down payment," Mr. Wall said. "We are thankful for this opportunity to partner with FHLB Dallas to strengthen our communities by helping more people become homeowners."

Greg Hettrick, first vice president and director of Community Investment at FHLB Dallas, said HELP is one of the perks of membership with FHLB Dallas.

"The evidence is overwhelming that homeownership stabilizes and strengthens communities, and our HELP subsidy is there for members to assist in making that happen for residents in their communities," he said.

For 2022, FHLB Dallas set aside $4 million available through its members on a first-come, first-served basis. Visit fhlb.com/help to view the current availability of HELP funds. To learn more about HELP, visit fhlb.com/help.

About Lea County State Bank
Chartered on November 2, 1928, during the oil boom days, the original Lea County State Bank of Lovington played an important role in the early development of southeastern New Mexico. The bank's main office was later moved to Hobbs, New Mexico, and the name was shortened to Lea County State Bank. The bank changed ownership and names in the 1980s, but in 1991, the bank was purchased by a group of local investors and the name reverted to Lea County State Bank and a philosophy of putting the customer first.

About the Federal Home Loan Bank of Dallas
The Federal Home Loan Bank of Dallas is one of 11 district banks in the FHLBank System created by Congress in 1932. FHLB Dallas, with total assets of $62.6 billion as of March 31, 2022, is a member-owned cooperative that supports housing and community investment by providing competitively priced loans and other credit products to approximately 800 members and associated institutions in Arkansas, Louisiana, Mississippi, New Mexico and Texas. For more information, visit fhlb.com.







---
Contact Information:
Corporate Communications
Federal Home Loan Bank of Dallas
fhlb.com
214.441.8445