---
Lea County State Bank and FHLB Dallas Award $16K to Affordable Housing Nonprofit
FHLB Dallas and Lea County State Bank Provide Partnership Grant Program Funds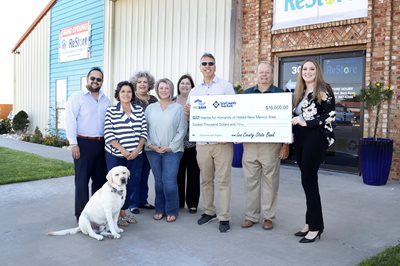 HOBBS, NEW MEXICO, October 17, 2022— Lea County State Bank (LCSB) and the Federal Home Loan Bank of Dallas (FHLB Dallas) awarded $16,000 in Partnership Grant Program (PGP) funds to Habitat for Humanity of Hobbs, New Mexico Area (Hobbs Habitat). Hobbs Habitat provides affordable mortgages and uses volunteers to help homeowners build their own homes.

"We are grateful for this funding from LCSB and FHLB Dallas that will assist us in the development of new affordable housing options for local families," said Richard Sanchez, executive director of Hobbs Habitat.

PGP grants help qualified nonprofit organizations fund a variety of operational and administrative activities critical to serving their communities. Hobbs Habitat will use the grant to buy new office equipment and for contractual services to develop a new subdivision that will include 14 homes to be sold to families at cost.

"Hobbs Habitat is making a positive difference in the Hobbs community and serves as a vital resource for families who need affordable housing," said Dickie Wall, senior vice president of LCSB. "It is an honor for us to be able to provide this funding through our partnership with FHLB Dallas."

In 2022, FHLB Dallas awarded $400,000 in PGP grants, and its members provided an additional $158,985 for an impact of $558,985 in its five-state District of Arkansas, Louisiana, Mississippi, New Mexico and Texas.

"We commend the commitment to enriching the New Mexico communities Lea County State Bank serves," said Greg Hettrick, first vice president and director of Community Investment at FHLB Dallas. "Our partnership with LCSB and the matching-grant nature of the PGP has enabled us to further their financial contributions to the community."

See the complete list of the 2022 PGP grant recipients. For more information about the 2022 PGP grants and other FHLB Dallas community investment products and programs, please visit fhlb.com/pgp.

About Lea County State Bank
Chartered on November 2, 1928, during the oil boom days, the original Lea County State Bank of Lovington played an important role in the early development of southeastern New Mexico. The bank's main office was later moved to Hobbs, New Mexico, and the name was shortened to Lea County State Bank. The bank changed ownership and names in the 1980s, but in 1991, the bank was purchased by a group of local investors and the name reverted to Lea County State Bank and a philosophy of putting the customer first.

About the Federal Home Loan Bank of Dallas
The Federal Home Loan Bank of Dallas is one of 11 district banks in the FHLBank System created by Congress in 1932. FHLB Dallas, with total assets of $77.7 billion as of June 30, 2022, serves approximately 800 members and associated institutions across our five-state District of Arkansas, Louisiana, Mississippi, New Mexico and Texas. FHLB Dallas provides financial products and services including advances (loans to members) and grant programs for affordable housing and economic development. For more information, visit our website at fhlb.com.

---
Contact Information:
Corporate Communications
Federal Home Loan Bank of Dallas
fhlb.com
214.441.8445