---
Five Banks Award More Than $34K to Shreveport Housing Nonprofit
The Fuller Center of Northwest Louisiana Awarded Partnership Grant Program Funds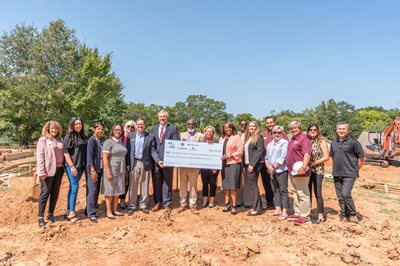 SHREVEPORT, LOUISIANA, September 14, 2022 — The Fuller Center for Housing of Northwest Louisiana (Fuller Center NWLA) received $34,200 in Partnership Grant Program (PGP) funds. Representatives from Cadence Bank, Hancock Whitney, Origin Bank and Red River Bank joined the Federal Home Loan Bank of Dallas (FHLB Dallas) to award the grants during a ceremonial check presentation today.

The following FHLB Dallas members provided funding, which includes a 3:1 match from FHLB Dallas:
Cadence Bank: $9,054
Hancock Whitney: $8,382
Origin Bank: $8,382
Red River Bank: $8,382

PGP awards provide 3:1 matches of member contributions to provide grants up to $12,000 per member to help promote and strengthen relationships between CBOs and FHLB Dallas members. The PGP also complements the development activities fostered by FHLB Dallas' Affordable Housing and Community Investment programs.

The Fuller Center NWLA builds new homes for low-income homebuyers who are unable to obtain adequate financing through other conventional means. Recipients receive a no-interest mortgage and affordable payments.

"Our work is very important to the citizens of northwest Louisiana, and I could not be more thankful to partner with institutions that believe in and support our purpose," said Lee A. Jeter Sr., executive director of Fuller Center NWLA. "It's because of these partnerships that we are able to create more affordable housing options across our territory."

Adam Sistrunk, Cadence Bank president – Northwest Louisiana Division, said they continue to support life-changing organizations.

"We have a strong commitment to our local communities, and it's evident on days like today where we're able to assist organizations that are changing lives," said Mr. Sistrunk. "This organization has a long record of completing quality affordable housing projects across Northwest Louisiana."

Hancock Whitney Assistant Vice President and Community Development Officer LaCarsha Babers said communities rely on PGP funding.

"We're thankful that FHLB Dallas makes PGP funds available because it allows our local communities to thrive," said Ms. Babers. "We are thankful for the opportunity to support The Fuller Center."

Origin Bank has been contributing to local organizations for years.

"Our dollars go further with FHLB Dallas, and we are thrilled to support local citizens alongside The Fuller Center with these funds," said Shelia Grayson, vice president, CRA and community development officer at Origin Bank.

Red River Bank has a longtime history of support for the organization.

"We have been a financial supporter of The Fuller Center for many years now because they continue to prove that they're making a lasting impact and improving lives across northwest Louisiana," said Jannease Seastrunk, senior vice president, CRA and community relations officer for Red River Bank.

In 2022, FHLB Dallas awarded $400,000 in PGP funds, and its members provided an additional $158,895 in funding for an impact of nearly $559,000 to 38 community organizations in its five-state District of Arkansas, Louisiana, Mississippi, New Mexico and Texas.

"These four members are reliable and trusted partners in the communities they serve," said Greg Hettrick, first vice president and director of Community Investment at FHLB Dallas. "Their reputation speaks volumes with local nonprofits, and we're happy to support their work with The Fuller Center."

See the complete list of the 2022 PGP grant recipients. For more information about the 2022 PGP grants and other FHLB Dallas community investment products and programs, please visit fhlb.com/pgp.

About the Federal Home Loan Bank of Dallas
The Federal Home Loan Bank of Dallas is one of 11 district banks in the FHLBank System created by Congress in 1932. FHLB Dallas, with total assets of $77.7 billion as of June 30, 2022, serves approximately 800 members and associated institutions across our five-state District of Arkansas, Louisiana, Mississippi, New Mexico and Texas. FHLB Dallas provides financial products and services including advances (loans to members) and grant programs for affordable housing and economic development. For more information, visit our website at fhlb.com.


---
Contact Information:
Corporate Communications
Federal Home Loan Bank of Dallas
fhlb.com
214.441.8445