---
FHLB Dallas and Wells Fargo Award $750K in Affordable Housing Funds
Banks and Prospera Housing Celebrate Groundbreaking for Weslaco Village Apartments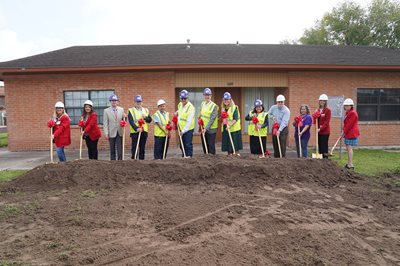 WESLACO, TEXAS, December 22, 2022 — Wells Fargo, the Federal Home Loan Bank of Dallas (FHLB Dallas) and Prospera Housing Community Services (Prospera) recently celebrated the groundbreaking for the reconstruction of Weslaco Village, an affordable housing complex serving extremely low-income households in Weslaco, Texas.

Prospera received a $750,000 Affordable Housing Program (AHP) subsidy in 2021 from Wells Fargo and FHLB Dallas to assist with the funding of the $16.5 million reconstruction project. The more than 40-year-old Weslaco, Texas, apartment complex will be expanded from 46 to 50 units and provide a full suite of upgrades for residents.

"This is a monumental day for this community and for affordable housing. Our long-time relationship with FHLB Dallas enables us to benefit communities through the AHP," said Patty Parina, vice president and relationship manager at Wells Fargo.

The apartment complex will offer energy efficient, ADA compliant, one- to four-bedroom units. The exterior upgrades will include a new playground.

"Weslaco Village is in a great area for affordable housing with jobs, schools, stores, restaurants and parks nearby," said Gilbert Piette, executive director of Prospera. "We're excited to finally begin rebuilding it from the ground up to support families in need."

AHP funds are intended to assist FHLB Dallas members in financing the purchase, construction and/or rehabilitation of owner-occupied, rental or transitional housing and housing for homeless individuals. The funds must be used to benefit households with incomes at or below 80 percent of the Area Median Income.

In 2022, FHLB Dallas awarded $17.2 million in AHP subsidies to 26 affordable housing projects. The subsidies will help create 2,022 new or rehabilitated housing units, including more than $7.5 million for 1,018 units in Texas.

"The AHP is fundamental in helping organizations provide high-quality affordable housing, and we are honored to work with Wells Fargo to provide critical funding for this project," said Greg Hettrick, first vice president and director of Community Investment at FHLB Dallas. "We're excited to see the impact this project will have in the Weslaco community."

For more information about the AHP, visit fhlb.com/ahp.

About the Federal Home Loan Bank of Dallas
The Federal Home Loan Bank of Dallas is one of 11 district banks in the FHLBank System created by Congress in 1932. FHLB Dallas, with total assets of $89.6 billion as of September 30, 2022, is a member-owned cooperative that supports housing and community development by providing competitively priced loans and other credit products to approximately 800 members and associated institutions in Arkansas, Louisiana, Mississippi, New Mexico and Texas. For more information, visit our website at fhlb.com.

---
Contact Information:
Corporate Communications
Federal Home Loan Bank of Dallas
fhlb.com
214.441.8445