---
FHLB Dallas and Member Banks Grant $37K to Lufkin, Texas, Nonprofit
Lufkin Neighborhood STRONG Awarded Partnership Grant Program Funds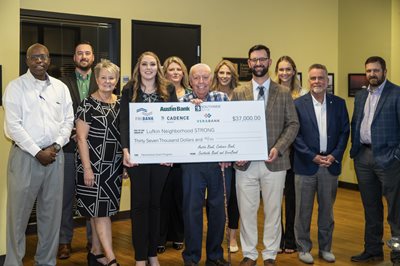 LUFKIN, TEXAS, October 17, 2022 — Lufkin Neighborhood STRONG received $37,000 in Partnership Grant Program (PGP) funds from Austin Bank, Texas N.A. (Austin Bank); Cadence Bank, Southside Bank, VeraBank and the Federal Home Loan Bank of Dallas (FHLB Dallas).

The banks gathered to award the grants during a ceremonial check presentation at the nonprofit's office in Lufkin, Texas.

The following banks provided funding, which includes a 3:1 match from FHLB Dallas:

Austin Bank: $11,385
Cadence Bank: $9,962
Southside Bank: $7,115
VeraBank: $8,538

Lufkin Neighborhood STRONG is a community-based organization that revitalizes the homes of elderly, disabled and economically disadvantaged homeowners in Angelina, Texas, and adjacent counties to create safer homes.

"We're very grateful to have the support of our community banks and FHLB Dallas" said Wayne Lawrence, executive director of Lufkin Neighborhood STRONG. "It's because of these funds that we're able to assist homeowners with improving their living conditions."

Debbie Braune, senior vice president, risk management and CRA officer at Austin Bank, said the bank is strongly committed to giving back.

"Our partnership with FHLB Dallas allows us to continue nurturing our community," she said. "We're delighted to lend a helping hand to Lufkin Neighborhood STRONG."

Joe Rich, market president at Cadence Bank, said they continue to support transformative organizations.
"The work of Lufkin Neighborhood STRONG improves lives, and we're happy to offer them financial support," he said.

Codie Jenkins, executive vice president at Southside Bank, said PGP funding is vital to communities.
"We're thankful that FHLB Dallas makes PGP funds available to help organizations such as Lufkin Neighborhood STRONG enrich its community," he said.

Kyle King, commercial credit analyst II at VeraBank, said they're proud to help further the nonprofit's mission.
"Lufkin Neighborhood STRONG ensures that people are living in safer homes," he said. "We're thankful for the opportunity to provide them PGP funds through our partnership with FHLB Dallas."

In 2022, FHLB Dallas awarded $400,000 in PGP funds, and its members provided an additional $158,895 in funding for an impact of nearly $559,000 to 38 community organizations in its five-state District of Arkansas, Louisiana, Mississippi, New Mexico and Texas.

"These four FHLB Dallas members are dependable partners in their respective communities," said Greg Hettrick, first vice president and director of Community Investment at FHLB Dallas. "We're happy to support them in helping Lufkin Neighborhood STRONG continue its community outreach."

See the complete list of the 2022 PGP grant recipients. For more information about the 2022 PGP grants and other FHLB Dallas community investment products and programs, please visit fhlb.com/pgp.

About the Federal Home Loan Bank of Dallas
The Federal Home Loan Bank of Dallas is one of 11 district banks in the FHLBank System created by Congress in 1932. FHLB Dallas, with total assets of $77.7 billion as of June 30, 2022, serves approximately 800 members and associated institutions across our five-state District of Arkansas, Louisiana, Mississippi, New Mexico and Texas. FHLB Dallas provides financial products and services including advances (loans to members) and grant programs for affordable housing and economic development. For more information, visit our website at fhlb.com.
---
Contact Information:
Corporate Communications
Federal Home Loan Bank of Dallas
fhlb.com
214.441.8445