---
$10K Grant Helps Texas Military Veteran with Home Modifications
First National Bank Texas and FHLB Dallas Fund Home Repairs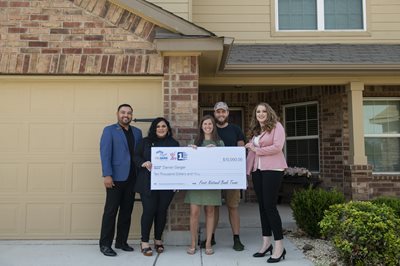 SAN ANTONIO, TEXAS, September 8, 2022 — During his more than 10-year military career, U.S. Army veteran Daniel Geiger discovered that the physical demands of his job had exasperated an undiagnosed genetic disease.

Working as a construction vehicle mechanic and nurse in the U.S. Army took its toll. He developed post-traumatic stress disorder (PTSD) and claustrophobia and was medically discharged after being diagnosed with Hypermobile Ehlers-Danlos Syndrome (hEDS) — a genetic connective tissue disorder. The small, enclosed shower in the family's main bathroom triggered Mr. Geiger's PTSD and the old tile flooring was hard to maintain due to shoulder damage caused by hEDS.

"My shoulder went out after my first deployment in Afghanistan," Mr. Geiger said. "I'm 32 years old and my doctor said I looked like I had the body of a 72-year-old paratrooper." During his military career, he went on to have two deployments to Afghanistan.

Now, Mr. Geiger and his family have an updated bathroom complete with new, easy-to-clean floors, a larger shower that does not induce claustrophobia and new sinks. The modifications were funded by a $10,000 Housing Assistance for Veterans (HAVEN) grant from First National Bank Texas (FNBT) and the Federal Home Loan Bank of Dallas (FHLB Dallas).

Representatives from FNBT and FHLB Dallas joined Mr. Geiger Wednesday at his home for a ceremonial check presentation.

HAVEN funds assist with necessary modifications to homes of U.S. veterans and active-duty, reserve or National Guard service members who became disabled as a result of their military service since September 11, 2001. Alternatively, the funds can be awarded to Gold Star Families that were impacted during this time frame for home repairs/rehabilitation. A recently announced pilot program also allows use of funds for down payment and closing cost assistance.

"It got to the point where I was having to take anxiety medication to get in our old shower," Mr. Geiger said. "We had a contractor at the house to get an estimate for the project, and he told us about the HAVEN program. We applied and within a month-and-a-half, we had been approved and the work was underway."

April Niswonger, assistant vice president at FNBT, said it was especially meaningful to award the grant to the Geiger family.

"By utilizing the HAVEN grant, we have the opportunity to assist the men and women who have served our country, and that is a high priority for us," she said.

Greg Hettrick, first vice president and director of Community Investment at FHLB Dallas, said HAVEN is a unique program because it specifically reaches certain military veterans and their
families.

"We are honored to have helped the Geiger family through our partnership with FNBT and the HAVEN program," he said.

For more information about HAVEN, visit our website at fhlb.com/haven.

About First National Bank Texas
First National Bank Texas (FNBT) is dedicated to providing customers with quality financial products and services. The bank was founded in 1901 in the Central Texas town of Killeen and has grown to over $3.7 billion in assets and operates in over 340 locations in Texas, Arizona, Arkansas and New Mexico.

About the Federal Home Loan Bank of Dallas
The Federal Home Loan Bank of Dallas is one of 11 district banks in the FHLBank System created by Congress in 1932. FHLB Dallas, with total assets of $77.7 billion as of June 30, 2022, serves approximately 800 members and associated institutions across our five-state District of Arkansas, Louisiana, Mississippi, New Mexico and Texas. FHLB Dallas provides financial products and services including advances (loans to members) and grant programs for affordable housing and economic development. For more information, visit our website at fhlb.com.


---
Contact Information:
Corporate Communications
Federal Home Loan Bank of Dallas
fhlb.com
214.441.8445