---
Wells Fargo and FHLB Dallas Award $17K to New Mexico Charity 
People Assisting the Homeless Has Nearly 40-Year History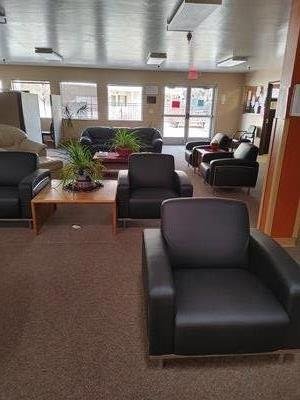 FARMINGTON, NEW MEXICO, September 15, 2021 — Wells Fargo and the Federal Home Loan Bank of Dallas (FHLB Dallas) have awarded $17,000 in Partnership Grant Program (PGP) funds to People Assisting the Homeless (PATH) of Farmington, New Mexico.

PATH offers an emergency shelter for homeless people, a transitional housing program and a wide variety of support services to people living in San Juan County and Farmington, New Mexico.

"The funding from the PGP grant will help us with the operational expenses we incur providing services to homeless individuals and families in Farmington and surrounding areas," said Amanda Lobato, executive director of PATH. "We are grateful for this funding infusion."

For 2021, FHLB Dallas awarded $400,000 in PGP grants, and its members provided an additional $200,250 for an impact of more than $600,000 in its five-state District of Arkansas, Louisiana, Mississippi, New Mexico and Texas. The grants help qualified nonprofit organizations fund a variety of operational and administrative activities that are critical to serving their communities.

"Wells Fargo is honored to partner with FHLB Dallas to provide this monetary boost to PATH, which has a long history of service to vulnerable populations across New Mexico," said Wells Fargo Vice President and Relationship Manager Patricia Parina.

Through this unique program, FHLB Dallas member institutions contribute $500 to $4,000 to a community-based organization (CBO), a 501(c)(3) nonprofit, which FHLB Dallas matches at a 3:1 ratio to provide the CBO up to $24,000 per member and $60,000 per year in grant money. PGP grants are awarded annually through FHLB Dallas' member institutions and help promote and strengthen relationships between CBOs and members.

"Wells Fargo has been an active participant in the PGP for more than a decade, a testament to its strong commitment to supporting nonprofits and the work they do across the many communities in its banking footprint," said Greg Hettrick, first vice president and director of Community Investment at FHLB Dallas.

See the complete list of the 2021 PGP grant recipients. For more information about the 2021 PGP grants and other FHLB Dallas community investment products and programs, please visit fhlb.com/pgp.

About Wells Fargo
Wells Fargo & Company (NYSE: WFC) is a leading financial services company that has approximately $1.9 trillion in assets, proudly serves one in three U.S. households and more than 10% of small businesses in the U.S., and is the leading middle market banking provider in the U.S. We provide a diversified set of banking, investment and mortgage products and services, as well as consumer and commercial finance, through our four reportable operating segments: Consumer Banking and Lending, Commercial Banking, Corporate and Investment Banking, and Wealth and Investment Management. Wells Fargo ranked No. 37 on Fortune's 2021 rankings of America's largest corporations. In the communities we serve, the company focuses its social impact on building a sustainable, inclusive future for all by supporting housing affordability, small business growth, financial health and a low-carbon economy.

About the Federal Home Loan Bank of Dallas
The Federal Home Loan Bank of Dallas is one of 11 district banks in the FHLBank System created by Congress in 1932. FHLB Dallas, with total assets of $58.6 billion as of June 30, 2021, is a member-owned cooperative that supports housing and community development by providing competitively priced loans and other credit products to approximately 800 members and associated institutions in Arkansas, Louisiana, Mississippi, New Mexico and Texas. For more information, visit our website at fhlb.com.



---
Contact Information:
Corporate Communications
Federal Home Loan Bank of Dallas
fhlb.com
214.441.8445