---
Special Needs Assistance Program Helps North Texas Couple with Home Repairs
Veritex Community Bank and FHLB Dallas Provide $7K Subsidy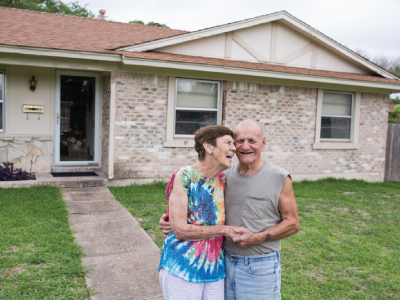 GARLAND, TEXAS, July 13, 2021 — A $7,000 Special Needs Assistance Program (SNAP) subsidy from Veritex Community Bank and the Federal Home Loan Bank of Dallas (FHLB Dallas) funded the replacement of a sewer line for an elderly Garland, Texas, couple.

Tommy and Marylyn Wilkerson, both 84, have lived in their home for the past 50 years. As the home aged, severe plumbing problems began to surface, to the extent where they were unable to use one of their home's bathrooms.

The SNAP subsidy was able to fund the repairs of an exterior sewer line. Upon inspection of the line, it was discovered that there was extensive damage including multiple breaks and a disconnection from the main city sewer line.

The couple's daughter, Beverly Melton, learned about SNAP through a family friend.

"I'm so grateful for FHLB Dallas and Veritex Community Bank," said Ms. Melton, who is a caregiver for her parents. "You couldn't have picked anyone else who would appreciate it more. We are so grateful to receive the funds."

Through member institutions such as Veritex Community Bank, SNAP provides subsidies for the repair and rehabilitation of owner-occupied housing of eligible, special-needs individuals. The maximum SNAP award per household is $6,000 unless the member or another lender contributes $350 toward the rehabilitation costs and/or inspection fees. Then the maximum award per household is $7,000.

"SNAP aids elderly and disabled homeowners like the Wilkersons who need critical repairs but may be on fixed incomes," said Melanie Goodman, Community Reinvestment Act officer at Veritex Community Bank. "This program is vital to helping members of our community continue to live independently in their homes."

FHLB Dallas set aside $2.5 million of its 2021 Affordable Housing Program funds for SNAP, and all SNAP funds were allocated in January for the highly sought-after program. Last year, FHLB Dallas awarded $2.5 million in SNAP subsidies that assisted 421 families. Since the program's 2009 inception, nearly $20.5 million in funding has been awarded across FHLB Dallas' five-state District.

"Our partnership with Veritex Community Bank allows us to give back to the community by helping families in need," said Greg Hettrick, first vice president and director of Community Investment at FHLB Dallas, "We are grateful for their relationship and continual support of the program."

To learn more about SNAP, visit fhlb.com/snap.

About Veritex Community Bank

Veritex Community Bank is a mid-sized community bank serving its customers with a full suite of banking products and services. The bank has several conveniently located branch locations in Houston, Fort Worth and Dallas, Texas, with total assets of over $8 billion. The bank, headquartered in Dallas, Texas, specializes in providing depository and credit services to small- to mid-size businesses, which have been largely neglected by national banks. The name "Veritex" is derived from the Latin word "veritas," meaning truth, and "Texas."

About the Federal Home Loan Bank of Dallas

The Federal Home Loan Bank of Dallas is one of 11 district banks in the FHLBank System created by Congress in 1932. FHLB Dallas, with total assets of $61.1 billion as of March 31, 2021, is a member-owned cooperative that supports housing and community development by providing competitively priced loans and other credit products to approximately 800 members and associated institutions in Arkansas, Louisiana, Mississippi, New Mexico and Texas. For more information, visit our website at fhlb.com.

---
Contact Information:
Corporate Communications
Federal Home Loan Bank of Dallas
fhlb.com
214.441.8445