---
Refinery Mission Breaks Ground on Transitional Housing Complex
St. Landry Homestead Federal Savings Bank and FHLB Dallas Contribute $750K to Project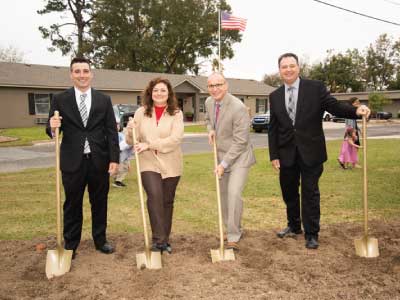 OPELOUSAS, LOUISIANA, November 19, 2021 – Yesterday, the Refinery Mission and its staff joined representatives from St. Landry Homestead Federal Savings Bank (St. Landry Homestead FSB) and the Federal Home Loan Bank of Dallas (FHLB Dallas) to break ground on a new transitional housing facility that will serve adult men.

Refinery Mission is a faith-based emergency and transitional housing facility for men who are homeless or transitioning from jail, rehab, mental health facilities or hospitals. The organization's goal is to provide the support its residents need to move toward self-sufficiency and stability.

The banks awarded Refinery Mission a $750,000 Affordable Housing Program (AHP) subsidy to help fund the $1.5 million construction project creating 44 additional units for its residents.

Johnny Carriere Jr., executive director at the Refinery Mission, said the funds will help tremendously.

"The funds are very critical to this project," said Mr. Carriere. "The Affordable Housing Program is a game changer and a great tool that allows us to serve people who need our help. The subsidy will allow us to increase our intake and open the door for emergency beds for guys who are in more vulnerable situations. It's hard for me to describe how appreciative we are for St. Landry Homestead FSB and FHLB Dallas' commitment to the community."

St. Landry Homestead FSB President and CEO Joe Zanco commended Refinery Mission's involvement in the community.

"The Refinery Mission has a strong commitment to serving those in need across our community," Mr. Zanco said. "We are honored to be involved with the Affordable Housing Program and to partner with FHLB Dallas to help improve programs and housing for those who are just getting the opportunity for a fresh start."

AHP funds are intended to assist FHLB Dallas members in financing the purchase, construction and/or rehabilitation of owner-occupied, rental or transitional housing and housing for the homeless. AHP funds must be used to benefit households with incomes at or below 80 percent of the median income for the area.

For 2021, FHLB Dallas awarded $18.5 million in subsidies to 26 affordable housing projects. The funds will help create 2,113 new or rehabilitated housing units. Included in that total, are $3 million in subsidies for 323 units of housing in the state of Louisiana.

Between 1990 and 2020, FHLB Dallas awarded more than $323 million in AHP and Homeownership Set-Aside Programs and has assisted more than 57,000 households.

"Partnering with our members to support community housing efforts is part of FHLB Dallas' mission," said Greg Hettrick, first vice president and director of Community Investment at FHLB Dallas. "St. Landry Homestead FSB is a valued partner in this commitment, and we appreciate its involvement in the Affordable Housing Program to help improve the community it serves."

For more information about the AHP, visit fhlb.com/ahp.

About St. Landry Homestead Federal Savings Bank
St. Landry Homestead Federal Savings Bank, founded in 1922, is a federally-chartered savings bank that serves the banking needs of customers in our market area in the Acadiana region of south central Louisiana. We operate from our headquarters and main banking office in Opelousas, Louisiana, as well as three additional full-service branch offices located in St. Landry Parish and two branch offices located in Lafayette Parish, Louisiana.

About the Federal Home Loan Bank of Dallas
The Federal Home Loan Bank of Dallas is one of 11 district banks in the FHLBank System created by Congress in 1932. FHLB Dallas, with total assets of $60.2 billion as of September 30, 2021, is a member-owned cooperative that supports housing and community development by providing competitively priced loans and other credit products to approximately 800 members and associated institutions in Arkansas, Louisiana, Mississippi, New Mexico and Texas. For more information, visit our website at fhlb.com.
---
Contact Information:
Corporate Communications
Federal Home Loan Bank of Dallas
fhlb.com
214.441.8445