---
Housing Repair Program Helps Louisiana Woman with New Windows 
Hancock Whitney and FHLB Dallas Partner to Provide Funding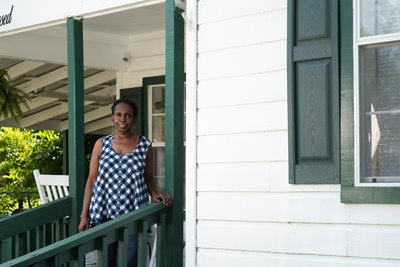 NEW IBERIA, LOUISIANA, August 26, 2021 — Myrtle Walker has a house full of new windows, thanks to a $6,000 Special Needs Assistance Program (SNAP) subsidy from Hancock Whitney and the Federal Home Loan Bank of Dallas (FHLB Dallas).

Ms. Walker, 68, said her New Iberia, Louisiana, home, built in 1966, was drafty. Wood trim around the windows had deteriorated over the years, allowing in moisture. The SNAP subsidy paid for new windows, window trim, insulation and touch-up paint.

Ms. Walker learned about the program when she saw another home repaired on her street and found out that SNAP funds were used to pay for the work. She inquired about the program and applied through her bank, Hancock Whitney.

"I'm just thankful that I got chosen, and that I was able to get my windows replaced," Ms. Walker said.

Through member institutions such as Hancock Whitney, SNAP provides subsidies for the repair and rehabilitation of owner-occupied housing of eligible, special-needs individuals. The maximum SNAP award per household is $6,000 unless the member or another lender contributes $350 toward the rehabilitation costs and/or inspection fees. Then the maximum award per household is $7,000.

Hancock Whitney Assistant Vice President and Community Development Officer LaCarsha Babers said FHLB Dallas' SNAP funding has made an impact.

"We've used SNAP funding for more than a decade and have witnessed firsthand the good works it has accomplished for homeowners in multiple communities we serve," she said.

FHLB Dallas set aside $2.5 million of its 2021 Affordable Housing Program funds for SNAP, and all SNAP funds were allocated in January for the highly sought-after program. Last year, FHLB Dallas awarded $2.5 million in SNAP subsidies that assisted 421 families. Since the program's 2009 inception, nearly $20.5 million in funding has been awarded across FHLB Dallas' five-state District.

"This program is popular with our members because it reaches homeowners who have special needs such as disabilities, health issues or who are older residents, generally on fixed incomes," said Greg Hettrick, first vice president and director of Community Investment at FHLB Dallas. "Hancock Whitney has been committed to tapping into SNAP for the betterment of their communities, and we think that's a great mindset."

To learn more about SNAP, visit fhlb.com/snap.

About Hancock Whitney
Since the late 1800s, Hancock Whitney has embodied core values of Honor & Integrity, Strength & Stability, Commitment to Service, Teamwork, and Personal Responsibility. Hancock Whitney offices and financial centers in Mississippi, Alabama, Florida, Louisiana, and Texas offer comprehensive financial products and services, including traditional and online banking; commercial and small business banking; private banking; trust and investment services; healthcare banking; certain insurance services; and mortgage services. The company also operates a loan production office in Nashville, Tennessee. BauerFinancial, Inc., the nation's leading independent bank rating and analysis firm, consistently recommends Hancock Whitney as one of America's most financially sound banks. More information is available at www.hancockwhitney.com.

About the Federal Home Loan Bank of Dallas
The Federal Home Loan Bank of Dallas is one of 11 district banks in the FHLBank System created by Congress in 1932. FHLB Dallas, with total assets of $58.6 billion as of June 30, 2021, is a member-owned cooperative that supports housing and community development by providing competitively priced loans and other credit products to approximately 800 members and associated institutions in Arkansas, Louisiana, Mississippi, New Mexico and Texas. For more information, visit our website at fhlb.com.




---
Contact Information:
Corporate Communications
Federal Home Loan Bank of Dallas
fhlb.com
214.441.8445