---
Grandmother Achieves 20-Year Dream of Purchasing First Home
Red River Bank and FHLB Dallas Award First-Time Homebuyer Funds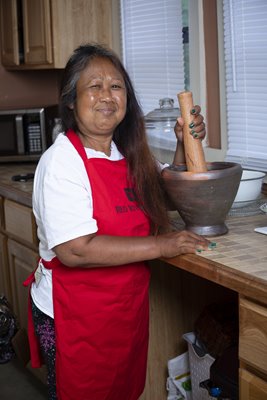 PINEVILLE, LOUISIANA, July 27, 2021 — After migrating to the United States nearly 40 years ago, 60-year-old Ny Chiem, a single mother of three and grandmother of seven, chose to raise her family in Pineville, Louisiana. She rented several apartment units over the years, with each one lacking a backyard, preventing her from enjoying her hobbies.

"I love going outside to enjoy the weather and to garden," Ms. Chiem said. "I've wanted a home with a backyard for more than 20 years."

After several years of patience, Ms. Chiem closed on her first home in June, thanks in part to an $8,500 Homebuyer Equity Leverage Partnership (HELP) subsidy from Red River Bank and the Federal Home Loan Bank of Dallas (FHLB Dallas) that provided her closing cost and down payment assistance.

"I wanted to give up," Ms. Chiem said. "But God gave me patience, so I applied again this year and was successful. I've wanted a house for so long, and I finally reached my dream of 20 years."

Rebecca Daniels, assistant vice president and mortgage originator at Red River Bank, helped Ms. Chiem with her mortgage application.

"Helping people get into their first home is the best part of my job," said Ms. Daniels. "We worked with Ms. Chiem for many years and finally could get her approved after a prolonged journey thanks to FHLB Dallas' HELP offering. It truly was a team effort to make this closing happen, and I know she is grateful for everyone involved."

HELP subsidies are offered by FHLB Dallas through its member institutions, like Red River Bank, to assist first-time homebuyers with down payments and closing costs on new or existing homes.

Since the program's inception in 2002, HELP subsidies totaling more than $28.5 million have assisted more than 5,075 families. For 2021, FHLB Dallas has $4.5 million available through its members on a first-come, first-served basis. Visit fhlb.com/help to view the current availability of HELP funds.

"Red River Bank has used our community programs for almost 20 years," said Greg Hettrick, first vice president and director of Community Investment. "With their partnership, we've been able to assist many long-time renters, like Ms. Chiem, become homeowners thanks to HELP."

About Red River Bank
Red River Bank is a Louisiana state-chartered bank established in Alexandria, Louisiana, in 1999 that provides a fully integrated suite of banking products and services tailored to the needs of its commercial and retail customers. Red River Bank operates from a network of 26 banking centers throughout Louisiana and one combined loan and deposit production office in Lafayette, Louisiana. Red River Bank is a subsidiary of Red River Bancshares, Inc., which trades under the trading symbol RRBI on the Nasdaq Global Select Market. Learn more at www.redriverbank.net.

About the Federal Home Loan Bank of Dallas
The Federal Home Loan Bank of Dallas is one of 11 district banks in the FHLBank System created by Congress in 1932. FHLB Dallas, with total assets of $61.1 billion as of March 31, 2021, is a member-owned cooperative that supports housing and community development by providing competitively priced loans and other credit products to approximately 800 members and associated institutions in Arkansas, Louisiana, Mississippi, New Mexico and Texas. For more information, visit our website at fhlb.com.



---
Contact Information:
Corporate Communications
Federal Home Loan Bank of Dallas
fhlb.com
214.441.8445