---
Arkansas Homeowner Receives $7K to Make Home Repairs 
Bank OZK and FHLB Dallas Partner to Provide Funds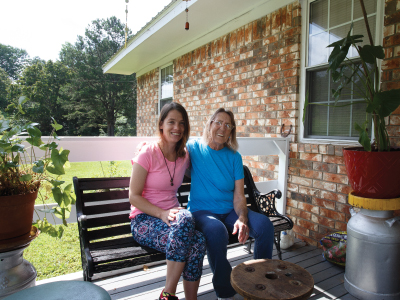 RUSSELLVILLE, ARKANSAS, July 20, 2021 — A $7,000 Special Needs Assistance Program (SNAP) subsidy from Bank OZK and the Federal Home Loan Bank of Dallas (FHLB Dallas) funded the repair of a hot water heater and heating and air conditioning system for a Russellville, Arkansas, homeowner.

The recipient, Carolyn Frady, 67, and her husband have lived in their home for the past 30 years. Built in the 1960s, the couple's home suffered from potentially dangerous issues, including a rusted hot water heater and an outdated heating and air-conditioning system.

She learned about SNAP through Universal Housing, a nonprofit corporation that provides housing-related services.

"I absolutely love the work they have done in my home," said Mrs. Frady. "Without these repairs, the issues would have gotten much worse, and our home would have just broken down."

Through member institutions such as Bank OZK, SNAP provides subsidies for the repair and rehabilitation of owner-occupied housing of eligible, special-needs individuals. The maximum SNAP award per household is $6,000 unless the member or another lender contributes $350 toward the rehabilitation costs and/or inspection fees. Then the maximum award per household is $7,000.

"We are honored to serve clients such as Mrs. Frady and provide essential home repairs," said Lasha Marshall, community development manager at Bank OZK, "Our partnership with FHLB Dallas allows us to access SNAP resources to make a meaningful impact on our neighbors and communities."

FHLB Dallas set aside $2.5 million of its 2021 Affordable Housing Program (AHP) funds for SNAP, and all SNAP funds were allocated in January for the highly sought-after program. Last year, FHLB Dallas awarded $2.5 million in SNAP subsidies that assisted 421 families. Since the program's 2009 inception, nearly $20.5 million in funding has been awarded across FHLB Dallas' five-state District.

"FHLB Dallas is grateful to partner with member banks such as Bank OZK to help families who are in need of repairs that they would otherwise be unable to afford," said Greg Hettrick, first vice president and director of Community Investment at FHLB Dallas.

To learn more about SNAP, visit fhlb.com/snap.

About Bank OZK
Bank OZK (Nasdaq: OZK) is a regional bank providing innovative financial solutions delivered by expert bankers with a relentless pursuit of excellence. Established in 1903, Bank OZK conducts banking operations through 250 offices in eight states including Arkansas, Georgia, Florida, North Carolina, Texas, New York, California and Mississippi and had $27.28 billion in total assets as of March 31, 2021. Bank OZK can be found at www.ozk.com and on Facebook, Twitter and LinkedIn or contacted at (501) 978-2265 or P.O. Box 8811, Little Rock, Arkansas 72231-8811.

About the Federal Home Loan Bank of Dallas
The Federal Home Loan Bank of Dallas is one of 11 district banks in the FHLBank System created by Congress in 1932. FHLB Dallas, with total assets of $61.1 billion as of March 31, 2021, is a member-owned cooperative that supports housing and community development by providing competitively priced loans and other credit products to approximately 800 members and associated institutions in Arkansas, Louisiana, Mississippi, New Mexico and Texas. For more information, visit our website at fhlb.com.



---
Contact Information:
Corporate Communications
Federal Home Loan Bank of Dallas
fhlb.com
214.441.8445