---
$7K SNAP Subsidy Helps Cool Off a Texas Home
Veritex Community Bank and FHLB Dallas Funds Cover Air Conditioning Replacement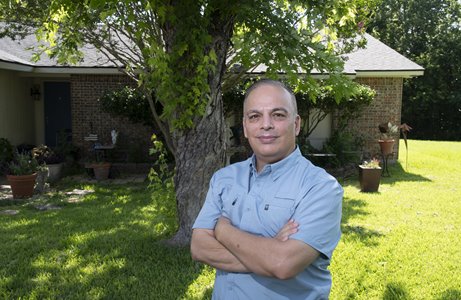 GARLAND, TEXAS, July 23, 2021 — With temperatures rising well into the high 90s, Edward Montemayor, 58, knows all too well the intensity of Texas summer heat. Last summer, he lived without air conditioning for weeks. A $7,000 Special Needs Assistance Program (SNAP) subsidy from Veritex Community Bank and the Federal Home Loan Bank of Dallas (FHLB Dallas) funded the replacement of his air conditioning unit this spring.

Mr. Montemayor has worked his whole life, most recently in management, until he and his wife, Michelle Perez, lost their jobs due to the COVID-19 pandemic. Because of lost wages, they were unable to fund home repairs. The pair reached out for help when the Texas summer heat made the home unbearably hot without a working air conditioning unit.

Mr. Montemayor learned about SNAP through a sign in his neighbor's yard. He asked the neighbor about the SNAP subsidy and called Veritex Community Bank to apply. He was awarded the maximum $7,000 to replace his air conditioning unit.

"We are very humbled and very blessed. I can't say enough about what this means to us", said Mr. Montemayor. "The funds were almost too good to be true. There are not enough words to express our gratitude."

Through member institutions such as Veritex Community Bank, SNAP provides subsidies for the repair and rehabilitation of owner-occupied housing of eligible, special-needs individuals. The maximum SNAP award per household is $6,000 unless the member or another lender contributes $350 toward the rehabilitation costs and/or inspection fees. Then the maximum award per household is $7,000.

"We are honored to aid community members such as Mr. Montemayor during difficult times," said Melanie Goodman, Community Reinvestment Act officer at Veritex Community Bank.

FHLB Dallas set aside $2.5 million of its 2021 Affordable Housing Program funds for SNAP, and all SNAP funds were allocated in January for the highly sought-after program. Last year, FHLB Dallas awarded $2.5 million in SNAP subsidies that assisted 421 families. Since the program's 2009 inception, nearly $20.5 million in funding has been awarded across FHLB Dallas' five-state District.

"SNAP allows us to efficiently work with member institutions like Veritex Community Bank to make an impact within the community," said Greg Hettrick, first vice president and director of Community Investment at FHLB Dallas.

To learn more about SNAP, visit fhlb.com/snap.

About Veritex Community Bank
Veritex Community Bank is a mid-sized community bank serving its customers with a full suite of banking products and services. The bank has several conveniently located branch locations in Houston, Fort Worth and Dallas, Texas, with total assets of over $8 billion. The bank, headquartered in Dallas, Texas, specializes in providing depository and credit services to small- to mid-size businesses, which have been largely neglected by national banks. The name "Veritex" is derived from the Latin word "veritas," meaning truth, and "Texas."

About the Federal Home Loan Bank of Dallas
The Federal Home Loan Bank of Dallas is one of 11 district banks in the FHLBank System created by Congress in 1932. FHLB Dallas, with total assets of $61.1 billion as of March 31, 2021, is a member-owned cooperative that supports housing and community development by providing competitively priced loans and other credit products to approximately 800 members and associated institutions in Arkansas, Louisiana, Mississippi, New Mexico and Texas. For more information, visit our website at fhlb.com.



---
Contact Information:
Corporate Communications
Federal Home Loan Bank of Dallas
fhlb.com
214.441.8445