---
U.S. Rep. French Hill Joins Banks in Presenting $475K Affordable Housing Grant
Arvest Bank and FHLB Dallas Combined to Fund Grant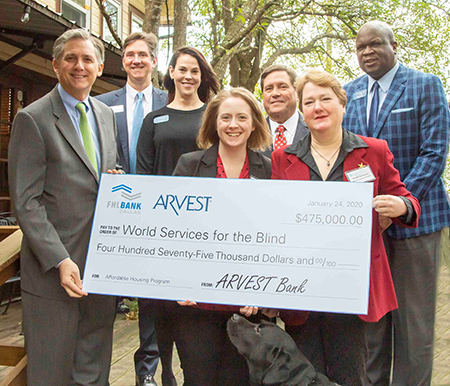 LITTLE ROCK, ARKANSAS, January 28, 2020 – U.S. Representative French Hill, AR-2, joined Arvest Bank and the Federal Home Loan Bank of Dallas (FHLB Dallas) last week for a ceremonial check presentation of a $475,000 Affordable Housing Program (AHP) grant to help renovate 51 residential units in the World Services for the Blind facility in Little Rock, Arkansas.
The AHP grant was awarded to World Services for the Blind, a nonprofit that operates one of the most comprehensive rehabilitation centers in the world for the blind and visually impaired.
The ceremonial check presentation took place at a community development roundtable hosted Friday in Little Rock by FHLB Dallas and attended by local dignitaries.
Also, at the roundtable, a check for $34,500 in Partnership Grant Program funds was presented to the University District Development Corporation for a revitalization program benefiting the residential and commercial neighborhoods adjacent to the University of Arkansas at Little Rock.
"World Services for the Blind is an organization known around the world for the outstanding work it does to help the blind and visually impaired learn to live independently," said Congressman Hill. "With this generous grant from Arvest Bank and the Federal Home Loan Bank of Dallas, World Services will be able to continue to offer its programs in a safe, modernized building for years to come."
Sharon Giovinazzo, president and CEO of World Services for the Blind, said, "This grant will help fund improvements to the residential facilities we provide our clients and we are very grateful to Arvest for their partnership and to FHLB Dallas for recognizing the impact the environment has on our clients during the rehabilitation process. For the first time in the 72-year history of our organization, our residential clients will be able to control the temperature of their apartment on their own, rather than being served by one central heating and air system. That is certainly a convenience they will enjoy."
Jim Cargill, president and CEO of Arvest Bank in central, northeast and southwest Arkansas, said, "The team at World Services for the Blind truly changes lives. They serve children and adults, who were born visually impaired, as well as people who lost their vision due to a life event. World Services prepares these individuals to live independently and to secure employment. Arvest is proud to partner with FHLB Dallas to provide such a significant grant toward the mission of helping people achieve these goals, and we look forward to continued examples of success."
The AHP assists FHLB Dallas member institutions like Arvest Bank in financing the purchase, construction or rehabilitation of homes, benefiting households with incomes at or below 80 percent of the area's median income.
FHLB Dallas awards AHP grants annually, through member institutions, to support the creation or rehabilitation of affordable housing units, among other projects. In 2019, FHLB Dallas, in partnership with its member financial institutions, awarded $17 million in AHP grants to 35 projects in Arkansas, Louisiana, Mississippi, New Mexico and Texas, which will result in the creation or rehabilitation of 2,122 housing units.
"World Services for the Blind is a well-known provider of critical services for the blind and visually impaired in Little Rock," said Greg Hettrick, first vice president and director of Community Investment at FHLB Dallas. "They needed some help to renovate their residential facility, and we were thrilled to join with Arvest Bank to help fund that work."
Visit fhlb.com/ahp for more information on the AHP.
About Arvest Bank
Arvest Bank, named by Forbes magazine as one of the "World's Best Banks" for 2019, operates more than 260 bank branches in Arkansas, Oklahoma, Missouri and Kansas through a group of 14 locally managed banks, each with its own board and management team. These banks serve customers in more than 135 communities, with extended weekday banking hours at many locations. Arvest also provides a wide range of banking services including loans, deposits, treasury management, credit cards, mortgage loans and mortgage servicing. Arvest is an Equal Housing Lender and Member FDIC.

About the Federal Home Loan Bank of Dallas
The Federal Home Loan Bank of Dallas is one of 11 district banks in the FHLBank system created by Congress in 1932. FHLB Dallas, with total assets of $73.8 billion as of September 30, 2019, is a member-owned cooperative that supports housing and community development by providing competitively priced advances and other credit products to approximately 815 members and associated institutions in Arkansas, Louisiana, Mississippi, New Mexico and Texas. Visit fhlb.com for more information.
---
Contact Information:
Corporate Communications
Federal Home Loan Bank of Dallas
fhlb.com
214.441.8445