---
Louisiana Nonprofit Receives $6K Grant for Land Acquisition
First Federal Bank of Louisiana and FHLB Dallas Award Funds to Project Build a Future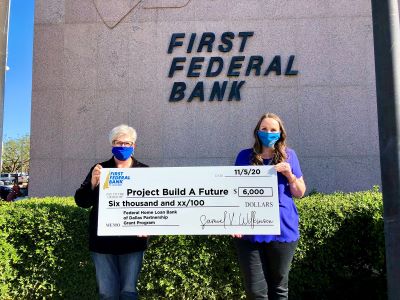 LAKE CHARLES, LOUISIANA, November 5, 2020 – First Federal Bank of Louisiana and the Federal Home Loan Bank of Dallas (FHLB Dallas) have awarded $6,000 in Partnership Grant Program (PGP) funds to Project Build a Future (PBAF).

PGP grants help qualified community-based organizations (CBOs) fund a variety of operational and administrative activities that are critical to serving their communities.

PBAF strives to provide affordable housing to low-income families. The CBO builds four to six homes annually. It also provides a homebuyer counseling and education program to support the purchase of a new home.

PBAF will use the funds to acquire land and cover predevelopment, survey, administrative and housing construction costs.

"Project Build a Future is delighted to have received PGP funds," said Charla Blake, PBAF executive director. "Helping clients purchase a home during the pandemic and the two recent hurricanes that hit Lake Charles is very rewarding."

First Federal Bank of Louisiana CRA Coordinator Melissa Dickson said that she recognizes many people are not able to easily purchase a home during this time.

"The Partnership Grant Program helps community-based organizations that are facing economically challenging times right now," Ms. Dickson said. "The funds will ensure that Project Build a Future can continue to help low-income families purchase quality affordable homes."

Funding under FHLB Dallas' PGP was increased by $2 million in 2020 under FHLB Dallas' COVID-19 Relief Program to support CBOs involved in affordable housing activities, stimulating small business development or providing small businesses with technical assistance. The use of funds for these organizations was expanded to include COVID-19 relief.

Through this unique grant program, FHLB Dallas member institutions contribute from $500 to $6,000 to a CBO, which FHLB Dallas matches at a new, higher 5:1 ratio (compared to the previous 3:1 ratio) resulting in a match of up to $30,000. If multiple member institutions contribute to the same CBO in one year, the maximum FHLB Dallas match for those member contributions is $60,000 per year. In both cases, the total grant to the CBO would be the sum of the member contribution(s) plus the FHLB Dallas match. Grants are awarded annually through FHLB Dallas and its member institutions.

"Community-based organizations like Project Build a Future are essential in helping low-income families find a permanent home," said Greg Hettrick, first vice president and director of Community Investment at FHLB Dallas. "The Lake Charles community has been shaken due to the hurricanes and pandemic. Our partnership with First Federal Bank of Louisiana is helping Project Build a Future continue their mission of empowering clients by providing quality affordable housing."

See the complete list of the 2020 PGP grant recipients. For more information about the 2020 PGP grants and other FHLB Dallas community investment products and programs, please visit fhlb.com/pgp.

About First Federal Bank of Louisiana
First Federal Bank of Louisiana is a full-service, locally owned community bank that has helped build the communities we serve for over 70 years. With 16 offices currently serving multiple parishes across Southwest and Central Louisiana, we are proud to offer our customers comprehensive retail and commercial products as well as investments and insurance services to meet all of their financial needs. Empowering people and places to realize and attain their dreams is what our community-first banking is all about, and that's what our team strives to do in the communities we serve each and every day. Visit www.ffbla.bank to learn more. Member FDIC, Equal Housing Lender.

About the Federal Home Loan Bank of Dallas
The Federal Home Loan Bank of Dallas is one of 11 district banks in the FHLBank system created by Congress in 1932. FHLB Dallas, with total assets of $66.3 billion as of September 30, 2020, is a member-owned cooperative that supports housing and community development by providing competitively priced advances and other credit products to approximately 800 members and associated institutions in Arkansas, Louisiana, Mississippi, New Mexico and Texas. Visit fhlb.com for more information.
---
Contact Information:
Corporate Communications
Federal Home Loan Bank of Dallas
fhlb.com
214.441.8445