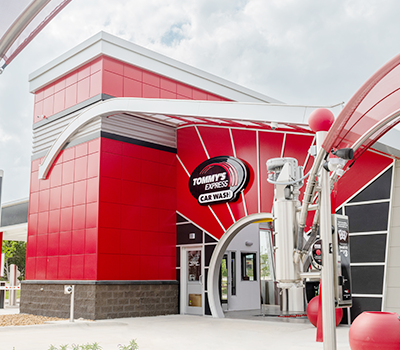 Jeff Ottmers, general manager and operating partner of Tommy's Express Car Wash, is immensely proud of the easy and hassle-free process that is the bedrock of his business.
"You get the app, select your wash and you pay using your credit card. Then you drive up, scan your license plate and get your wash done," said Mr. Ottmers.
The First National Bank Texas supported Mr. Ottmers in setting up this franchise in San Antonio via a loan. But there was a financing gap between his request and the amount it could underwrite.
That's where a Small Business Boost (SBB) loan from the Federal Home Loan Bank of Dallas (FHLB Dallas) came in. The SBB is a secondary, unsecured loan made in conjunction with a loan from a participating member institution.
"The Small Business Boost (SBB) loan is an important part of serving our communities," said Michael Carson, senior vice president and commercial lender at First National Bank Texas. "It allows us to be creative and structure the loan to suit the unique needs of customers who sometimes need just a little bit more to get their business off the ground."
The SBB often serves as an enhancement to the initial products and services that member banks offer.
"Without the SBB program we might not have been able to support customers who have great businesses that are making a difference," Mr. Carson said.
Besides helping members overcome underwriting obstacles, SBB kept local businesses solvent through flexible financing.
"I've been a business owner before, but the SBB program made the difference this time. I'd like to thank the First National Bank Texas and FHLB Dallas for their support," Mr. Ottmers said.
Learn more about the program, including information on how much in funding is still available, at
fhlb.com/sbb
and read the article titled "How the Small Business Boost Helps Members Support Local Businesses" in this issue of Solutions for greater detail on the nuts-and-bolts of the program.