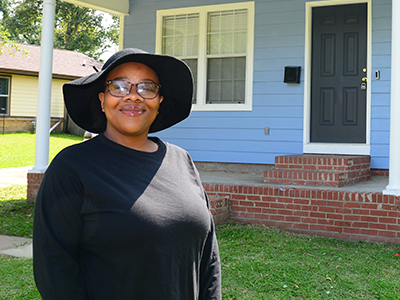 After spending her childhood in apartments, 34-year-old single mom and medical assistant Desire Brown was ready to move her three children to their own home.
With the help of $8,000 in Homebuyer Equity Leverage Partnership (HELP) funds provided by the Federal Home Loan Bank of Dallas (FHLB Dallas) through The Citizens National Bank, that dream is now a reality.
HELP is offered by FHLB Dallas through participating member institutions and provides subsidies to income-qualified, first-time homebuyers for downpayments and closing costs.
"Although I've been saving toward a home for a long time, Citizens National Bank and HELP gave me the confidence to finally enter the market and make a decision," Ms. Brown said. "It was hard to be renting from landlords. The environment was not the best for my kids."
Ms. Brown's four-bedroom house in Jackson, Mississippi, is just what she was looking for. The Citizens National Bank supported her with the initial loan and leveraged the HELP subsidy to assist with her down payment and closing costs.
"Homeownership is central to the American Dream and purchasing a home is the biggest decision our customers make. The HELP subsidy has fulfilled so many dreams and Ms. Brown is the latest addition to this growing list. We wanted to be there for her as she took this significant step and much of it was made possible by the HELP subsidy, said Tyeisha Smith, community development officer at The Citizens National Bank.
Without the support of The Citizens National Bank and HELP, Ms. Brown felt that she might have been priced out of this purchase.
"My kids loved the house the moment they saw it," said Ms. Brown.
For 2023, FHLB Dallas set aside $6.5 million, available through its members on a first-come, first-served basis. All 2023 funds have been allocated. Visit
fhlb.com/help
to learn more about HELP.