---
The First Bank and FHLB Dallas Provide $750K for Apartment Renovation 
Affordable Housing Development to Receive Extensive Upgrades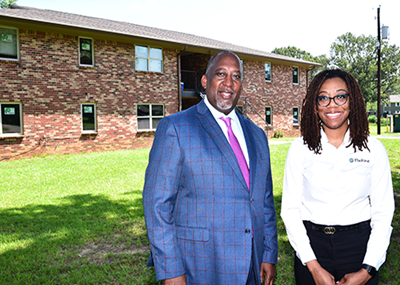 CANTON, MISSISSIPPI, January 19, 2023 — The First Bank (The First) and the Federal Home Loan Bank of Dallas (FHLB Dallas) awarded a $750,000 Affordable Housing Program (AHP) subsidy to Central Mississippi Housing and Development Corp. (CMHDC) for an extensive $3.9 million renovation of the 64-unit Canton Manor, a 1980s-era affordable housing apartment complex in Canton, Mississippi.

The renovation, which is underway, includes exterior and interior improvements along with amenities such as a new playground. The apartments will be available to very low-, low- and moderate-income families.

"AHP funding from The First and FHLB Dallas helped move this project forward," said Stanford Beasley, executive director of CMHDC. "We are looking forward to presenting the new Canton Manor to the community."

The First Community Development Officer Lauren Wilson said the extensive renovation is impressive.

"The transformation of these apartments is truly remarkable," she said. "We are thankful for our ability to join with FHLB Dallas in helping to provide affordable housing in Canton."

In 2022, FHLB Dallas awarded $17.2 million in Affordable Housing Program (AHP) subsidies to 26 affordable housing projects.

"We appreciate The First's commitment to supporting affordable housing," said Greg Hettrick, senior vice president and director of Community Investment at FHLB Dallas.

For more information about the AHP, visit fhlb.com/ahp.

About The First Bancshares Inc.
The First Bancshares, Inc., headquartered in Hattiesburg, Mississippi, is the parent company of The First Bank. Founded in 1996 near Hattiesburg, Mississippi, The First has grown rapidly through South Mississippi, South Alabama, Louisiana, Florida and Georgia providing services competitive to those found at larger regional banks. The company's stock is traded on Nasdaq Global Market under the symbol FBMS. Information is available on the company's website www.TheFirstBank.com.

About the Federal Home Loan Bank of Dallas
The Federal Home Loan Bank of Dallas is one of 11 district banks in the FHLBank System created by Congress in 1932. FHLB Dallas, with total assets of $89.6 billion as of September 30, 2022, is a member-owned cooperative that supports housing and community development by providing competitively priced loans and other credit products to approximately 800 members and associated institutions in Arkansas, Louisiana, Mississippi, New Mexico and Texas. For more information, visit our website at fhlb.com.

---
Contact Information:
Corporate Communications
Federal Home Loan Bank of Dallas
fhlb.com
214.441.8445