---
Red River Bank and FHLB Dallas Celebrate the Grand Opening of Affordable Housing Development
Senior Living Community Receives $750K Subsidy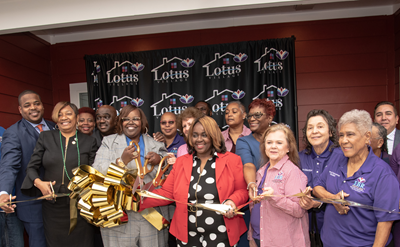 BATON ROUGE, LOUISIANA, February 17, 2023 — Representatives from Red River Bank and the Federal Home Loan Bank of Dallas (FHLB Dallas) joined Gulf Coast Housing Partnership (GCHP) and the East Baton Rouge Council on Aging at the grand opening of The Lotus Village Senior Living Community. GCHP received a $750,000 Affordable Housing Program (AHP) subsidy from Red River Bank and FHLB Dallas. Representatives celebrated with a ribbon cutting at the $25 million affordable housing community in Baton Rouge, Louisiana

The Lotus Village Senior Living Community includes 116 apartment homes for low- to moderate-income older adults in duplexes and fourplexes spanning three city blocks. Units are designed to allow senior residents to age with the convenience of support services and resources onsite.

"We believe that every senior deserves the opportunity to age gracefully in a supportive and welcoming environment," said Jannease Seastrunk, senior vice president, community relations and CRA officer at Red River Bank. "We are thrilled to support affordable housing initiatives for seniors in Baton Rouge in this modern community that will enhance their lives."

The Lotus Village community also includes an administrative building with an activity center, food pantry, computer lab, geriatric cardio room and a commercial kitchen for agencies to serve meals to residents.

"The Lotus Village Senior Living Community offers seniors an affordable place to live while also providing them with supportive services offered through the East Baton Rouge Council on Aging including daily enrichment activities and hot meals," said Kathy Laborde, GCHP president and CEO. "We are grateful to all our partners who pulled resources together to make this community come to life."

AHP funds are intended to assist FHLB Dallas members in financing the purchase, construction and/or rehabilitation of owner-occupied, rental or transitional housing and housing for homeless individuals. The funds must be used to benefit households with incomes at or below 80 percent of the median income for the area.

"Red River Bank is a tremendous advocate in the communities they serve. We appreciate the opportunity to support them while contributing to affordable housing in Louisiana," said Greg Hettrick, senior vice president and director of Community Investment at FHLB Dallas.

In 2022, FHLB Dallas awarded $17.2 million in subsidies to 26 affordable housing projects. The subsidies will help create 2,022 new or rehabilitated housing units, including 562 units in Louisiana. For more information about the AHP, visit fhlb.com/ahp.

About Red River Bank
Red River Bank is a Louisiana state-chartered bank established in Alexandria, Louisiana, in 1999 that provides a fully integrated suite of banking products and services tailored to the needs of its commercial and retail customers. Red River Bank operates from a network of 28 banking centers throughout Louisiana and one combined loan and deposit production office in New Orleans, Louisiana. Red River Bank is a subsidiary of Red River Bancshares, Inc., which trades under the trading symbol RRBI on the Nasdaq Global Select Market. Learn more at redriverbank.net.

About the Federal Home Loan Bank of Dallas
The Federal Home Loan Bank of Dallas is one of 11 district banks in the FHLBank System created by Congress in 1932. FHLB Dallas, with total assets of $89.6 billion as of September 30, 2022, is a member-owned cooperative that supports housing and community development by providing competitively priced loans and other credit products to approximately 800 members and associated institutions in Arkansas, Louisiana, Mississippi, New Mexico and Texas. For more information, visit our website at fhlb.com.

---
Contact Information:
Corporate Communications
Federal Home Loan Bank of Dallas
fhlb.com
214.441.8445