---
Mississippi Infant and Maternity Store Receives Small Business Boost 
FHLB Dallas and Renaissance Community Loan Fund Help Launch Boutique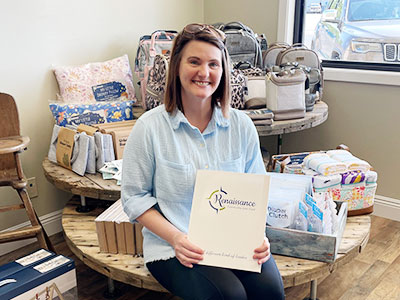 NATCHEZ, MISSISSIPPI, July 26, 2023 — A $5,000 Small Business Boost (SBB) loan from the Federal Home Loan Bank of Dallas (FHLB Dallas) through its member, Renaissance Community Loan Fund (RCLF), helped fund the launch of Kudzu Cotton Boutique in Natchez, Mississippi.

The boutique is the only infant, child and maternity store in Natchez and offers infant and children's apparel, as well as clothes for moms and moms-to-be. Owner Angela Perrin got the idea for the business from her pregnant daughter. The name comes from the combination of kudzu – a ubiquitous vine that grows throughout Natchez, and the cotton fields in the area. Additionally, the boutique offers a sneak peek ultrasound for a gender reveal.

FHLB Dallas offers SBB loans through member financial institutions to provide financing for qualified small business transactions by filling the gap between the loan amount that an FHLB Dallas member institution can fund and the loan request made by an eligible small business.

When Ms. Perrin wanted to start her business and looked to obtain a loan, it was difficult due to her lack of experience in retail. An advantage of the SBB is that the borrower does not begin to repay the loan until after the first year. This feature helps newly formed small businesses build cash flow during their first year in operation.

"I knew it didn't have to be paid back immediately and that allowed us to get our feet in the door," she said. "I can't say enough good things about RCLF and how they connected us with FHLB Dallas and the SBB."

Kimberly LaRosa, president & CEO at RCLF, said helping small businesses is vital to the region's economy.

"Too many aspiring entrepreneurs don't ever see their dreams of owning a business become reality. At RCLF, we recognize small businesses sometimes need that extra boost to get started," Ms. LaRosa said. "It's a pleasure to be part of the process and see their success."

Greg Hettrick, senior vice president and director of Community Investment for FHLB Dallas, agreed.

"It's critical that small businesses get funding when they need it most," he said. "The structure of the loan with no payments the first year is ideal for startup businesses and expansions."

Visit fhlb.com/sbb to learn more.

About Renaissance Community Loan Fund
Renaissance Community Loan Fund is on a mission to empower people with the skills and information they need to improve their finances. Renaissance can help you go from needing your credit repaired to being ready for a home or business loan. Renaissance Community Loan Fund is a different kind of lender— focused on helping residents in Mississippi and Alabama.

About the Federal Home Loan Bank of Dallas
The Federal Home Loan Bank of Dallas is one of 11 district banks in the FHLBank System created by Congress in 1932. FHLB Dallas, with total assets of $181.2 billion as of March 31, 2023, is a member-owned cooperative that supports housing and community development by providing competitively priced loans and other credit products to approximately 800 members and associated institutions in Arkansas, Louisiana, Mississippi, New Mexico and Texas. For more information, visit our website at fhlb.com.


---
Contact Information:
Corporate Communications
Federal Home Loan Bank of Dallas
fhlb.com
214.441.8445