---
Mississippi Beachside Juice Bar Taps FHLB Dallas Small Business Loan Program 
Financing from FHLB Dallas and Renaissance Community Loan Fund Assists with Launch of Woman-Owned Startup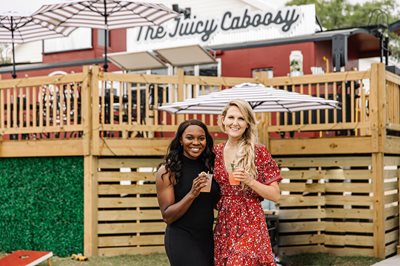 LONG BEACH, MISSISSIPPI, July 21, 2023 — After a journey that began on the railroads of Louisiana, two businesswomen have opened a juice bar in a red caboose on the coast of Mississippi. A Small Business Boost (SBB) loan from the Federal Home Loan Bank of Dallas (FHLB Dallas) and Renaissance Community Loan Fund (RCLF) moved them along the track to entrepreneurship.

Tomeka Bryant and Ailsa von Dobeneck met when their careers crossed paths in the railroad industry. They forged a friendship over shared business interests that got them talking about an investment of a different sort. After noticing a growing number of decommissioned cabooses, the two women hatched a business plan to buy a caboose and turn it into a business.

Meet The Juicy Caboosy, a juice bar and eatery in Long Beach, Mississippi, along the Mississippi coast. The pair renovated their decommissioned caboose into a juice bar with an outdoor deck and seating area. Now, The Juicy Caboosy is a tourist spot with fresh juices, smoothie bowls and other refreshing menu items.

A $59,000 SBB loan from FHLB Dallas through RCLF helped fund the startup. Financing included a $241,000 RCLF loan that was supplemented with personal funds from Ms. Bryant and Ms. Dobeneck.

FHLB Dallas offers SBB loans through member financial institutions to provide financing for qualified small businesses by filling the gap between the loan amount that an FHLB Dallas member institution can fund and the loan request made by an eligible small business.

The team at RCLF was impressed with the businesswomen from the start.

"Ms. Bryant and Ms. Dobeneck had a great business plan and strategy. We could tell they had the drive to make their vision come true and we knew The Juicy Caboosy was going to be a success," said Kimberly LaRosa, president of RCLF.

One advantage of the SBB is that the borrower does not begin to repay the loan until after the first year. This feature helps newly formed small businesses build cash flow during their first year of operation.

Greg Hettrick, senior vice president and director of Community Investment for FHLB Dallas, said RCLF has ushered small businesses from the concept phase through to their launch.

"The Juicy Caboosy is a great example of how FHLB Dallas members like RCLF are helping small businesses thrive," he said.

Visit fhlb.com/sbb to learn more.

About Renaissance Community Loan Fund
Renaissance Community Loan Fund is on a mission to empower people with the skills and information they need to improve their finances. RCLF can help you go from needing your credit repaired to being ready for a home or business loan. Renaissance Community Loan Fund is a different kind of lender — focused on helping residents in Mississippi and Alabama achieve their dreams.

About the Federal Home Loan Bank of Dallas
The Federal Home Loan Bank of Dallas is one of 11 district banks in the FHLBank System created by Congress in 1932. FHLB Dallas, with total assets of $181.2 billion as of March 31, 2023, is a member-owned cooperative that supports housing and community development by providing competitively priced loans and other credit products to approximately 800 members and associated institutions in Arkansas, Louisiana, Mississippi, New Mexico and Texas. For more information, visit our website at fhlb.com.

---
Contact Information:
Corporate Communications
Federal Home Loan Bank of Dallas
fhlb.com
214.441.8445