---
$750K from Red River Bank and FHLB Dallas to Help Fund Construction of Louisiana Homeless Shelter 
Salvation Army to Build New Facility that Will Include Units for Women and Children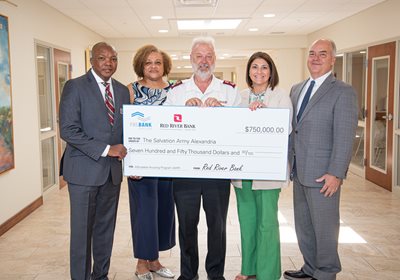 ALEXANDRIA, LOUISIANA, May 25, 2023 — A homeless shelter will be built to serve women, children and men in Alexandria, Louisiana, with the help of a $750,000 Affordable Housing Program (AHP) subsidy provided by the Federal Home Loan Bank of Dallas (FHLB Dallas) through its member, Red River Bank.

The funding, celebrated in a ceremonial check presentation today, will assist The Salvation Army of Central Louisiana (The Salvation Army CENLA) in developing a 19,250-square-foot multifamily homeless shelter and support facility with 32 beds. Completion of the $5.7 million project is expected by July 2023.

"We are grateful for the funding support provided by Red River Bank and FHLB Dallas," said Major Tim Williford, corps officer, The Salvation Army CENLA. "Thanks to their generous investment, more people in Alexandria will have an option for emergency shelter."

Only men can stay at The Salvation Army CENLA's current emergency shelter, which isn't large enough to serve women and children.

"Partnering with FHLB Dallas will allow us to provide critically needed housing for women and their children," said Jannease Seastrunk, Red River Bank senior vice president, community relations and CRA officer.

The funds will be used toward filling the financing gap to help The Salvation Army CENLA expand its capacity to serve homeless women and families through the new facility.

AHP funds are intended to assist FHLB Dallas members in financing the purchase, construction and/or rehabilitation of owner-occupied, rental or transitional housing and housing for homeless individuals. The funds must be used to benefit households with incomes at or below 80 percent of the median income for the area.

"Red River Bank has long been a leader in investing in the communities they serve, and we support them in that effort," Greg Hettrick, senior vice president and director of Community Investment at FHLB Dallas.

In 2022, the Bank approved a total of $17.1 million to fund 26 AHP applications, which will lead to the creation, renovation or acquisition of 2,022 housing units. For more information about the AHP, visit fhlb.com/ahp.

About Red River Bank
Red River Bank is a Louisiana state-chartered bank established in Alexandria, Louisiana, in 1999 that provides a fully integrated suite of banking products and services tailored to the needs of its commercial and retail customers. Red River Bank operates from a network of 27 banking centers throughout Louisiana and one combined loan and deposit production office in New Orleans, Louisiana. Red River Bank is a subsidiary of Red River Bancshares, Inc., which trades under the trading symbol RRBI on the Nasdaq Global Select Market. Learn more at redriverbank.net.

About the Federal Home Loan Bank of Dallas
The Federal Home Loan Bank of Dallas is one of 11 district banks in the FHLBank System created by Congress in 1932. FHLB Dallas, with total assets of $181.2 billion as of March 31, 2023, is a member-owned cooperative that supports housing and community development by providing competitively priced loans and other credit products to approximately 800 members and associated institutions in Arkansas, Louisiana, Mississippi, New Mexico and Texas. For more information, visit our website at fhlb.com.


---
Contact Information:
Corporate Communications
Federal Home Loan Bank of Dallas
fhlb.com
214.441.8445