---
$4K HAVEN Grant Helps U.S. Army Veteran Purchase First Home
Federal Home Loan Bank of Dallas and First National Bank Texas Provide Closing Cost Assistance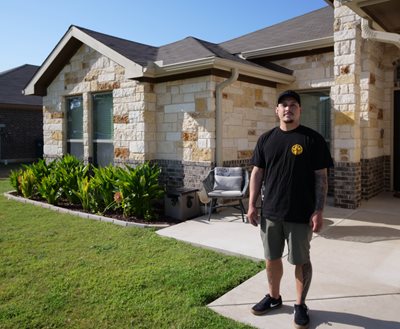 COPPERAS COVE, TEXAS, August 2, 2023 — Retired U.S. Army infantry veteran Jesse Grantham and his wife were able to realize their dreams of owning a home, thanks in part to a $4,000 Housing Assistance for Veterans (HAVEN) grant from the Federal Home Loan Bank of Dallas (FHLB Dallas) through its member First National Bank Texas (FNBT) of Killeen, Texas.

Mr. Grantham, 33, and his wife had been renting for 10 years and wanted to buy a house. The COVID-19 pandemic, inflation and home prices kept them from being able to afford one.

Mr. Grantham learned of the grant program through a friend. He was approved and applied the funds toward closing costs. The application process was extremely smooth, and they were able to close on their house quickly.

HAVEN provides grants to veterans and active-duty, reserve or National Guard service members who have been disabled in the line of duty since August 2, 1990. Funds can be used for modifications to an existing home, to offset construction costs or assist with a down payment and closing costs. In addition, the funds may be used to assist Gold Star Families impacted during this time frame.

"Everything just fell into place," he said. "We are so grateful. It really gave us piece of mind to know that the funds were there." He has recommended the program to other veterans.

April Niswonger, assistant vice president at FNBT, said helping veterans is very rewarding.

"FNBT understands the challenges our military personnel face when transitioning back to civilian life, and we want to do everything we can to support them," she said.

Greg Hettrick, senior vice president and director of Community Investment at FHLB Dallas, commends FNTB's commitment to veterans.

"Investing in our communities is so important," he said. "FNTB has distributed more than $60,000 in the past 18 months to help veterans."

About First National Bank Texas
First National Bank Texas (FNBT) provides customers with quality financial products and services. The bank was founded in 1901 in the Central Texas town of Killeen and has grown to over $3.7 billion in assets and operates in over 340 locations in Texas, Arizona, Arkansas, and New Mexico.

About the Federal Home Loan Bank of Dallas
The Federal Home Loan Bank of Dallas is one of 11 district banks in the FHLBank System created by Congress in 1932. FHLB Dallas, with total assets of $174 billion as of June 30, 2023, is a member-owned cooperative that supports housing and community development by providing competitively priced loans and other credit products to approximately 800 members and associated institutions in Arkansas, Louisiana, Mississippi, New Mexico and Texas. For more information, visit our website at fhlb.com.


---
Contact Information:
Corporate Communications
Federal Home Loan Bank of Dallas
fhlb.com
214.441.8445