---
$10K HAVEN Grant Helps Louisiana Marine Veteran with Down Payment Assistance
Red River Bank and FHLB Dallas Provide Funds to First-Time Homebuyer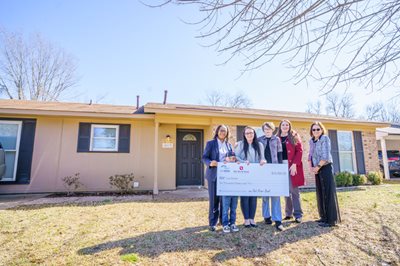 BOSSIER CITY, LOUISIANA, February 7, 2023 — U.S. Marine Corps veteran Lisa Doxey and her two sons have a new place to call home thanks to a $10,000 Housing Assistance for Veterans (HAVEN) grant from Red River Bank and the Federal Home Loan Bank of Dallas (FHLB Dallas).

HAVEN provides grants to veterans and active-duty, reserve or national guard service members who have been disabled in the line of duty since 9/11. In addition, the funds may be used to assist Gold Star families that were impacted during this timeframe. Representatives from Red River Bank and FHLB Dallas recently joined Ms. Doxey and her family for a ceremonial check presentation at her home to celebrate the occasion.

The disabled veteran enlisted in the Marine Corps as an ROTC student in high school. Following years of childhood trauma, she saw joining the Marine Corps as an opportunity to change the trajectory of her life.

"I grew up around poverty, abuse and many things I didn't want for myself as an adult. Even though I was set up to fail, I was determined to be better than where I came from. I knew the military would test me and keep me motivated," she said.

Beginning at 17, Ms. Doxey, now 37, served as an administrative clerk to the colonel at the Marine Corps Air Station in Yuma, Arizona. After more than three years in that role, she began to experience a pattern of health issues which ultimately led to her being placed on full disability. Ms. Doxey had episodic blackouts, seizures and irregular heart palpitations. At 20, doctors told her she would have one week to live without open-heart surgery.

"This was a very scary time in my life. I didn't know if I'd have a future," she said. "God saved me and now I am celebrating a new milestone that I didn't think would be possible."

Ms. Doxey and her two sons, now 12 and 8, were renting when they decided to pursue homeownership because of electrical and HVAC system issues at the rental.

"I wanted a better home for myself and my children, but I was so unsure how I would come up with the closing costs. With rising interest rates, the cost was more than what we anticipated and I was scared I wouldn't have anywhere to live," she said.

During Ms. Doxey's research into opportunities that could assist her in securing a home loan, she came across the HAVEN program online. Ms. Doxey connected with Red River Bank where she completed her application. She was approved to receive a $10,000 HAVEN grant for down-payment assistance – the final piece she needed to secure the home loan.

"This is the perfect starter home for my boys and me. I fell in love with its rustic charm and vaulted ceilings. I was even able to enroll my older son in a better neighborhood school," she said.

Ms. Doxey is the first to use the HAVEN Pilot program which grants down payment assistance funds to recipients whereas the traditional program grants funds to veterans for home repairs. The program's use is also a first for Red River Bank. Judy Madison, vice president of Community Outreach and Mortgage Lending at Red River Bank, said meeting Ms. Doxey was a rewarding experience.

"Red River Bank exists to serve the people in our communities like our veterans have done for us," Ms. Madison said. "Ms. Doxey is a natural encourager, and it has been a pleasure to help her obtain homeownership. This journey is always an exciting one and it means so much to assist her during this special time in life."

Greg Hettrick, senior vice president and director of Community Investment at FHLB Dallas, said he is happy to see veterans using this resource.

"Red River Bank works tirelessly to serve their clients and we love to see a veteran benefiting from the down-payment assistance opportunity that the HAVEN program offers," he said.


About Red River Bank
Red River Bank is a Louisiana state-chartered bank established in Alexandria, Louisiana, in 1999 that provides a fully integrated suite of banking products and services tailored to the needs of its commercial and retail customers. Red River Bank operates from a network of 28 banking centers throughout Louisiana and one combined loan and deposit production office in New Orleans, Louisiana. Red River Bank is a subsidiary of Red River Bancshares, Inc., which trades under the trading symbol RRBI on the Nasdaq Global Select Market. Learn more at redriverbank.net.

About the Federal Home Loan Bank of Dallas
The Federal Home Loan Bank of Dallas is one of 11 district banks in the FHLBank System created by Congress in 1932. FHLB Dallas, with total assets of $89.6 billion as of September 30, 2022, serves approximately 800 members and associated institutions across our five-state District of Arkansas, Louisiana, Mississippi, New Mexico and Texas. FHLB Dallas provides financial products and services including advances (loans to members) and grant programs for affordable housing and economic development. For more information, visit our website at fhlb.com.
---
Contact Information:
Corporate Communications
Federal Home Loan Bank of Dallas
fhlb.com
214.441.8445