---
Trustmark and FHLB Dallas Award $750K for Affordable Housing
Partners Celebrate Groundbreaking of Multifamily Development for Older Adults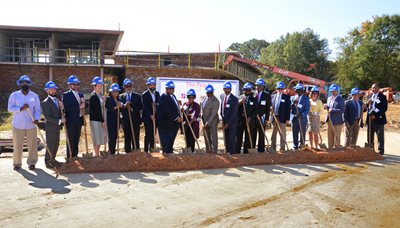 JACKSON, MISSISSIPPI, November 4, 2022 — Trustmark National Bank (Trustmark), the Federal Home Loan Bank of Dallas (FHLB Dallas), Gulf Coast Housing Partnership (GCHP) and others gathered this week to celebrate the groundbreaking of The Pearl, an affordable housing complex and healthcare clinic for older adults in Jackson, Mississippi.

Gulf Coast Housing Partnership received a $750,000 Affordable Housing Program (AHP) subsidy from Trustmark and FHLB Dallas to assist with the funding of the $28 million adaptive reuse project. A Holiday Inn built on the 14-acre site in the 1960s will be re-adapted and renovated into 72,000 square feet of affordable housing with an onsite healthcare clinic. The clinic will be open to the public.

"The Pearl is an innovative approach to fulfilling multiple needs for older adults in Jackson, and we are proud to be part of this development," said John WIse, vice president of fair and responsible banking at Trustmark. "We are grateful for the partnership with FHLB Dallas to continue offering affordable housing."

The Pearl will have 76 one- and two-bedroom apartments reserved for residents aged 55 or older. The community is designed to facilitate aging in place, including a pool, fitness center and community room. The Pearl will be the first Fitwel-certified building in Mississippi. Fitwel is a healthy building certification system. Healthy elements will include the prominent placement of walkways and stairwells to encourage movement.

"GCHP's mission to create affordable housing and stronger communities throughout the Gulf Coast is only possible through our partnerships," said GCHP President and CEO Kathy Laborde. "Together we will be able to transform this property and will improve the health outcomes for the residents of The Pearl and the surrounding community."

AHP funds are intended to assist FHLB Dallas members in financing the purchase, construction and/or rehabilitation of owner-occupied, rental or transitional housing, and housing for homeless individuals. The funds must be used to benefit households with incomes at or below 80 percent of the median income for the area.

Greg Hettrick, first vice president and director of Community Investment at FHLB Dallas, said the project might be a good window into the future of innovative affordable housing.

"Seniors need affordable housing with critical services like accessible healthcare," he said. "We're grateful for Trustmark's commitment to this development and bringing us alongside to maximize funding."

For more information about the AHP, visit fhlb.com/ahp.

About Trustmark
Trustmark National Bank is a subsidiary of Trustmark Corporation (Nasdaq:TRMK), a diversified financial services company headquartered in Jackson, Mississippi, with locations in Alabama, Florida, Georgia, Mississippi, Tennessee and Texas. Visit trustmark.com for more information.

About the Federal Home Loan Bank of Dallas
The Federal Home Loan Bank of Dallas is one of 11 district banks in the FHLBank System created by Congress in 1932. FHLB Dallas, with total assets of $89.6 billion as of September 30, 2022, is a member-owned cooperative that supports housing and community development by providing competitively priced loans and other credit products to approximately 800 members and associated institutions in Arkansas, Louisiana, Mississippi, New Mexico and Texas. For more information, visit our website at fhlb.com.
---
Contact Information:
Corporate Communications
Federal Home Loan Bank of Dallas
fhlb.com
214.441.8445