---
Renewal Ranch Receives $750K from BancorpSouth and FHLB Dallas 
Funds to Help Finance Construction of a Residential Facility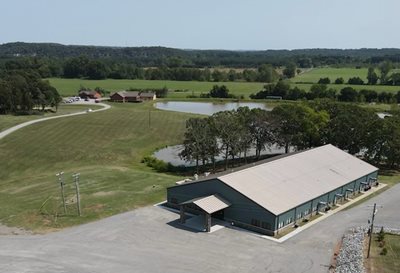 CONWAY, ARKANSAS, January 20, 2022 — BancorpSouth Bank, a division of Cadence Bank (NYSE: CADE), and the Federal Home Loan Bank of Dallas (FHLB Dallas) awarded a $750,000 Affordable Housing Program (AHP) subsidy to Renewal Ranch to help build a $1.9 million residential facility on its campus.

Renewal Ranch is a faith-based residential addiction recovery program for men ages 21 and older located on 116 acres near Conway, Arkansas.

"Men in our second phase of recovery are transitioning back out into society and working jobs, but we don't have enough housing for them on campus, so we've had to rent units at a Conway apartment complex," said John Berry, director of operations at Renewal Ranch. "AHP funding will allow us to build a residential facility that will have 42 bedrooms. It will enable us to house all the men in our programs on campus with supportive and caring staff onsite."

Tammie Davis, president - Central Arkansas market for BancorpSouth, said the bank has disbursed funds through the AHP since the early 1990s.

"We are honored to use the AHP funding to help Renewal Ranch expand its residential housing," Ms. Davis said. "We strongly believe in this program and appreciate the opportunity to partner with FHLB Dallas to provide affordable housing in the many communities we serve."

AHP funds are intended to assist FHLB Dallas members in financing the purchase, construction and/or rehabilitation of owner-occupied, rental or transitional housing, and housing for homeless individuals. The funds must be used to benefit households with incomes at or below 80 percent of the median income for the area.

In 2021, FHLB Dallas awarded $18.5 million in subsidies to 26 affordable housing projects. The subsidies will help create 2,113 new or rehabilitated housing units, including $1.5 million for 102 units in Arkansas.

Between 1990 and 2021, FHLB Dallas has awarded $344.6 million in AHP and Homeownership Set-Aside Programs and has assisted nearly 60,000 households.

Greg Hettrick, first vice president and director of Community Investment at FHLB Dallas, said the AHP provides a way for its members to support vulnerable populations such as people seeking recovery from alcohol and drug abuse.

"This AHP funding will allow Renewal Ranch to expand its housing to provide supportive residential care to its program participants," Mr. Hettrick said. "We are proud to join BancorpSouth Bank on this endeavor."
For more information about the AHP, visit fhlb.com/ahp.

About Cadence Bank
Cadence Bank (NYSE: CADE) is a leading regional banking franchise with approximately $50 billion in assets and more than 400 branch locations across the South, Midwest and Texas. Cadence provides consumers, businesses and corporations with a full range of innovative banking and financial solutions. Services and products include consumer banking, consumer loans, mortgages, home equity lines and loans, credit cards, commercial and business banking, treasury management, specialized lending, asset-based lending, commercial real estate, equipment financing, correspondent banking, SBA lending, foreign exchange, wealth management, investment and trust services, financial planning, retirement plan management, and personal and business insurance. Cadence is committed to a culture of respect, diversity and inclusion in both its workplace and communities. Cadence Bank, Member FDIC. Equal Housing Lender.

About the Federal Home Loan Bank of Dallas
The Federal Home Loan Bank of Dallas is one of 11 district banks in the FHLBank System created by Congress in 1932. FHLB Dallas, with total assets of $60.2 billion as of September 30, 2021, is a member-owned cooperative that supports housing and community development by providing competitively priced loans and other credit products to approximately 800 members and associated institutions in Arkansas, Louisiana, Mississippi, New Mexico and Texas. For more information, visit our website at fhlb.com.



---
Contact Information:
Corporate Communications
Federal Home Loan Bank of Dallas
fhlb.com
214.441.8445