---
New Affordable Housing for Creatives Celebrates Grand Opening in Santa Fe, New Mexico
Century Bank and FHLB Dallas Provided $650K to Help Finance Development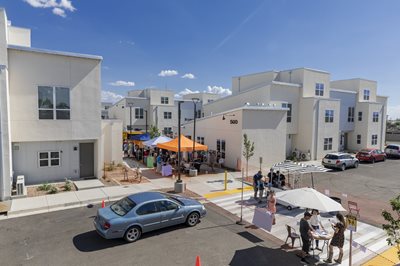 SANTA FE, NEW MEXICO, July 20, 2022 — Century Bank, the Federal Home Loan Bank of Dallas (FHLB Dallas) and Santa Fe, New Mexico, residents recently celebrated the grand opening of an affordable housing development designed specifically for people involved in creative professions.

Known as Siler Yard, the 65-unit rental development at 1218 Siler Road in Santa Fe, New Mexico, is an affordable live/work rental development in New Mexico for creatives making under 60 percent of the Area Median Income (AMI).

The development will provide housing, economic support resources and a sense of community for local artists, dancers, artisans, actors and culinary artists.

"The Siler Yard development has been a decade in the making, and we are thrilled to officially open to our residents and the community," said Daniel Werwath, executive director at New Mexico Inter-Faith Housing. "The development will provide high-quality housing to individuals at rates far below the local average for monthly rent."

The more than $17.4 million project was made possible in part by a $650,000 Affordable Housing Program (AHP) subsidy awarded to New Mexico Inter-Faith Housing from Century Bank and FHLB Dallas.

"Midtown Santa Fe is a vibrant and important part of our community, and we are thrilled to have had the opportunity to partner with FHLB Dallas to contribute to the development of Siler Yard," said Jeff Szabat, senior vice president at Century Bank.

Siler Yard will offer one-, two- and three-bedroom units to residents at rates starting at $427 per month. There will be nearly 600 solar panels installed allowing the community to produce all of its own power. As a result, residents will not be charged for utilities in their monthly rent.

"We are honored to be part of this innovative development with Century Bank," said Greg Hettrick, first vice president and director of Community Investment at FHLB Dallas. "As housing costs rise nationwide, we are proud to help provide affordable housing options to Santa Fe-area residents."

For more information about the AHP, visit fhlb.com/ahp.

About Century Bank
Century Bank has been serving the Great State of New Mexico since 1887. In August of that year, in an effort to develop the Santa Fe community through mortgage lending, Mutual Building and Loan Association was founded with $500. In 1982, Mutual Building and Loan Association went through a name change and became Century Federal Savings and Loan Association. Since then, other changes have led to Century Bank's current status as a state chartered and locally owned, full service, community bank.

About the Federal Home Loan Bank of Dallas
The Federal Home Loan Bank of Dallas is one of 11 district banks in the FHLBank System created by Congress in 1932. FHLB Dallas, with total assets of $62.6 billion as of March 31, 2022, is a member-owned cooperative that supports housing and community development by providing competitively priced loans and other credit products to approximately 800 members and associated institutions in Arkansas, Louisiana, Mississippi, New Mexico and Texas. For more information, visit our website at fhlb.com.


---
Contact Information:
Corporate Communications
Federal Home Loan Bank of Dallas
fhlb.com
214.441.8445