---
Mother Realizes Dream of Owning Daycare Center with the Help of a Small Business Loan
RCLF and FHLB Dallas Provide a $100K Small Business Boost Loan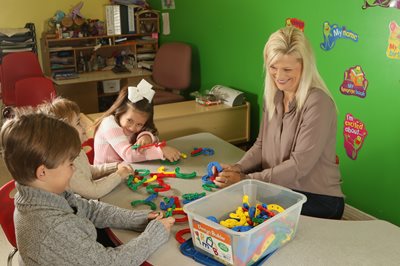 MCCOMB, MISSISSIPPI, March 18, 2022 — A $100,000 Small Business Boost (SBB) loan from Renaissance Community Loan Fund (RCLF) and the Federal Home Loan Bank of Dallas (FHLB Dallas) helped close the gap in funding for McComb, Mississippi, mom Carmen Walsh to buy a daycare.

SBB is offered by FHLB Dallas through member financial institutions such as RCLF to provide financing for qualified small business transactions by filling the gap between the loan amount that an FHLB Dallas member institution can fund and the loan request made by an eligible small business. SBB loans are unsecured and subordinate to the primary loan made by the member financial institution.

In Ms. Walsh's case, her $381,300 RCLF loan was supplemented with $100,000 in SBB funds from FHLB Dallas, along with a Small Business Administration micro loan, to make the purchase of McComb Learning Center in McComb, Mississippi, possible.

After years in a corporate setting that required extensive travel, Ms. Walsh saw owning the daycare her children attended not only as a career change to a field she'd always loved, but an opportunity to be home for her children.

"The SBB helped get me to the signing table to make my dream come true," Ms. Walsh said. "I'm grateful for this opportunity to make a positive impact on the children in McComb."

RCLF closed 10 SBB loans in 2021 with FHLB Dallas.

"This is a successful learning center that has been operating in McComb for years, and Ms. Walsh is from the area," said Kimberly LaRosa, RCLF president and CEO. "The SBB provided the gap funding we needed to close the deal."

Ms. Walsh said the previous daycare owner grew into a mentor and dear friend over the years, and she approached the owner about a sale – twice – before convincing her to sell.

Another advantage of SBB is that the borrower does not begin to repay the loan until after the first year. This feature is designed to help a small business build critical cash flow during the first year of the loan.

Greg Hettrick, first vice president and director of Community Investment for FHLB Dallas, said access to capital can be challenging for small businesses.

"RCLF is experienced in pairing the SBB with their own lending products to obtain the capital needed to start and expand businesses, creating jobs and opportunities," he said.

See fhlb.com/sbb to learn more.

About Renaissance Community Loan Fund
The Gulf Coast Business Council created Gulf Coast Renaissance Corp. (now Renaissance Community Loan Fund) in 2006, in the wake of Hurricane Katrina, to help rebuild the Mississippi Gulf Coast by bridging the gap in the need for safe and affordable workforce housing. Since then, Renaissance has helped make distinct improvements to the communities by promoting community and economic development through various programs implemented to deliver effective and meaningful results.

About the Federal Home Loan Bank of Dallas
The Federal Home Loan Bank of Dallas is one of 11 district banks in the FHLBank System created by Congress in 1932. FHLB Dallas, with total assets of $63.5 billion as of December 31, 2021, is a member-owned cooperative that supports housing and community development by providing competitively priced loans and other credit products to approximately 800 members and associated institutions in Arkansas, Louisiana, Mississippi, New Mexico and Texas. For more information, visit our website at fhlb.com.




---
Contact Information:
Corporate Communications
Federal Home Loan Bank of Dallas
fhlb.com
214.441.8445