---
Houston Mayor Joins Wells Fargo and FHLB Dallas to Celebrate the Grand Opening of an Affordable Housing Apartment Complex
Wells Fargo and FHLB Dallas Provided $750K for the Development in the Historic Second Ward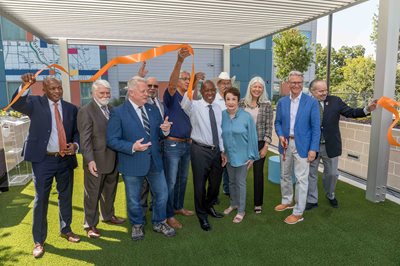 HOUSTON, TEXAS, October 25, 2022 — Representatives from Wells Fargo and the Federal Home Loan Bank of Dallas (FHLB Dallas) joined Houston, Texas, Mayor Sylvester Turner and other state and local dignitaries at the grand opening of New Hope Housing Avenue J (Avenue J) apartments. The $35-million, 100-unit, affordable apartment community in Houston's historic Second Ward received a $750,000 Affordable Housing Program (AHP) subsidy from Wells Fargo and FHLB Dallas.

Avenue J offers one- and two-bedroom apartments for residents earning between 30 percent and 60 percent of the Area Median Income (AMI). The development responds to the needs of the rapidly evolving East End neighborhood, providing relief to long-time residents who are being priced out due to rising rents.

"With the rising cost of rent, this Houston neighborhood will see tremendous benefits with the entrance of these new, affordable units," said Tyler Smith, senior vice president and community relations senior manager at Wells Fargo. "We are proud to be able to provide funding alongside FHLB Dallas toward a project that will improve the lives of families."

Residents of Avenue J have access to services that include social activities, nutritional education, job preparedness, exercise classes, health and wellness and educational support for all ages. Residents also have shared amenities that include a community lounge, a business center, activity room, fitness trail and an upper-level outdoor terrace.

"Avenue J is addressing a critical and essential need for local families, and the positive ripple effects from this project will be felt for generations to come," said Bruce Hatton, vice president and director of Community Investment at FHLB Dallas. "We're thankful for Wells Fargo's commitment to affordable housing and its ongoing partnership through the AHP."

AHP funds are intended to assist FHLB Dallas members in financing the purchase, construction and/or rehabilitation of owner-occupied, rental or transitional housing and housing for homeless individuals. The funds must be used to benefit households with incomes at or below 80 percent of the median income for the area.

In 2021, FHLB Dallas awarded $18.5 million in subsidies to 26 affordable housing projects. The subsidies will help create 2,113 new or rehabilitated housing units, including almost $7.5 million for 986 units in Texas. For more information about the AHP, visit fhlb.com/ahp.

About the Federal Home Loan Bank of Dallas
The Federal Home Loan Bank of Dallas is one of 11 district banks in the FHLBank System created by Congress in 1932. FHLB Dallas, with total assets of $77.7 billion as of June 30, 2022, is a member-owned cooperative that supports housing and community development by providing competitively priced loans and other credit products to approximately 800 members and associated institutions in Arkansas, Louisiana, Mississippi, New Mexico and Texas. For more information, visit our website at fhlb.com.

---
Contact Information:
Corporate Communications
Federal Home Loan Bank of Dallas
fhlb.com
214.441.8445