---
Home Bank and FHLB Dallas to Help Fund Revival of Historic Louisiana Property
Banks Provide a $750K Subsidy to Transform Franklin Foundation Hospital into Senior Living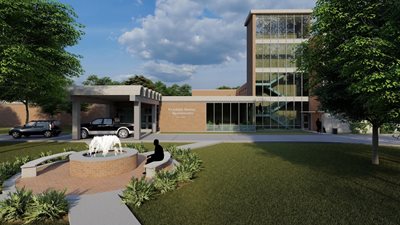 FRANKLIN, LOUISIANA, May 13, 2022 — Home Bank and the Federal Home Loan Bank of Dallas (FHLB Dallas) awarded a $750,000 Affordable Housing Program (AHP) subsidy to New Orleans Restoration Properties to help renovate the former Franklin Foundation Hospital into a $25.7 million affordable senior living community in Franklin, Louisiana.

The vacant hospital property was built in the early 1950s and was expanded in 1966 and again in 1985. It occupies 7.5 acres on a large, tree-shaded block. The interior hasn't been altered since the hospital closed more than 10 years ago and includes original details such as hardwood floors and wainscotting.

New Orleans Restoration Properties will honor the building's mid-century design in its renovation and said the property will be eligible for the National Register of Historic Places. Once complete, the property will have 60 rental units for older adults. It will be renovated under Enterprise Green Communities' national green building program of sustainable and healthy building practices for the affordable housing sector.

"The AHP provides important initial funding to move this project forward," said Marseah Delatte, managing member of New Orleans Restoration Properties. "Senior housing provides financial freedom for one of society's vulnerable populations and supports independence and security that far too many families simply can't achieve on their own income, without a helping hand."

Kelvin Luster, Home Bank senior vice president and community development director, said the restoration of a historically significant property adds interest to the project.

"I can't wait to see what they accomplish with Franklin Foundation Hospital," Mr. Luster said. "It's a win-win for the community in that they'll preserve history while also providing much-needed affordable housing."

AHP funds are intended to assist FHLB Dallas members in financing the purchase, construction and/or rehabilitation of owner-occupied, rental or transitional housing, and housing for homeless individuals. The funds must be used to benefit households with incomes at or below 80 percent of the median income for the area.

In 2021, FHLB Dallas awarded $18.5 million in subsidies to 26 affordable housing projects. The subsidies will help create 2,113 new or rehabilitated housing units, including $3 million for 323 units in Louisiana.
Between 1990 and 2021, FHLB Dallas awarded $344.6 million in AHP and Homeownership Set-Aside Programs and assisted nearly 60,000 households.

Greg Hettrick, first vice president and director of Community Investment at FHLB Dallas, said Home Bank is a strong proponent of affordable housing.

"Home Bank's use of the AHP over the course of many years has made a sizable impact on the access to affordable housing in the communities it serves," Mr. Hettrick said. "We commend Home Bank for that commitment."

For more information about the AHP, visit fhlb.com/ahp.

About Home Bank
Home Bank, N.A., founded in 1908 as Home Building & Loan, is the oldest financial institution founded in Lafayette Parish. Through the years, we've expanded to serve markets in South Louisiana, Mississippi and Texas: Acadiana, Baton Rouge, New Orleans, the Northshore of Lake Pontchartrain, St. Martin and Jeff Davis Parishes, as well as Adams, Fort Bend, Galveston and Harris Counties. With 43 locations across South Louisiana, Western Mississippi and Southeast Texas, Home Bank is committed to serving the needs of our communities. Personal banking has always been Home Bank's trademark and that tradition continues as we grow, invest and serve our clients and community. We live our values each day, focusing on integrity, innovation and a commitment to serving others. For more information about Home Bank, visit www.home24bank.com.

About the Federal Home Loan Bank of Dallas
The Federal Home Loan Bank of Dallas is one of 11 district banks in the FHLBank System created by Congress in 1932. FHLB Dallas, with total assets of $62.6 billion as of March 31, 2022, is a member-owned cooperative that supports housing and community development by providing competitively priced loans and other credit products to approximately 800 members and associated institutions in Arkansas, Louisiana, Mississippi, New Mexico and Texas. For more information, visit our website at fhlb.com.


---
Contact Information:
Corporate Communications
Federal Home Loan Bank of Dallas
fhlb.com
214.441.8445