---
Home Bank and FHLB Dallas Award $16K to Mississippi and Louisiana Nonprofits
An Affordable Housing and Veterans Organization Receive Partnership Grant Program Funds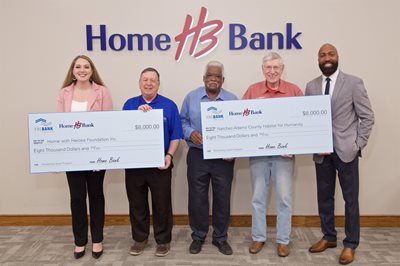 NATCHEZ, MISSISSIPPI, November 9, 2022 — Home Bank and the Federal Home Loan Bank of Dallas (FHLB Dallas) awarded $16,000 in Partnership Grant Program (PGP) funding to two community organizations in Natchez, Mississippi, during a ceremonial check presentation Tuesday.

Natchez-Adams County Habitat for Humanity (Habitat): $8,000

Home with Heroes Foundation Inc. (Home with Heroes): $8,000
Habitat makes available low-cost, no-interest mortgages to qualifying applicants while helping new homeowners build their homes with the help of volunteers. The nonprofit plans to use the proceeds toward operational, administrative and program operating expenses.

Home with Heroes supports military veterans in Adams County, Mississippi, and Concordia Parish, Louisiana, with free services. The organization plans to use proceeds for emergency financial aid, sponsorship of a veterans parade and other assistance for veterans, such as helping them locate military records.

Kelvin Luster, senior vice president and community development director at Home Bank, said the PGP funds greatly impact small organizations.

"These investments can make a meaningful difference to smaller community-service providers — allowing them to hire staff or otherwise increase their organizational capacity to make an even larger impact," he said. "It's an honor for Home Bank to be able to contribute in this way."

Habitat and Home with Heroes are two of seven local nonprofit organizations that Home Bank is supporting with PGP funding this year. Together, Home Bank and FHLB Dallas contributed more than $67,000 to seven community-based organizations in Louisiana, Mississippi and Texas.

In 2022, FHLB Dallas and its members provided nearly $559,000 in PGP funds to 38 community organizations in its five-state District of Arkansas, Louisiana, Mississippi, New Mexico and Texas. See the complete list of the grant recipients and visit fhlb.com/pgp to learn more.

"FHLB Dallas members understand what it means to be a community advocate," said Greg Hettrick, first vice president and director of Community Investment at FHLB Dallas. "We appreciate the partnership with Home Bank and how they help to address community needs."

About Home Bank, N.A.
Home Bank, N.A., founded in 1908 as Home Building & Loan, is the oldest financial institution founded in Lafayette Parish. Home Bank now serves markets in South Louisiana and Mississippi in 40 locations. Home Bank is committed to serving the needs of our communities. Personal banking has always been Home Bank's trademark and that tradition continues as we grow, invest and serve our clients and community. We live our values each day, focusing on integrity, innovation and a commitment to serving others. For more information about Home Bank, visit www.home24bank.com.

About the Federal Home Loan Bank of Dallas
The Federal Home Loan Bank of Dallas is one of 11 district banks in the FHLBank System created by Congress in 1932. FHLB Dallas, with total assets of $89.6 billion as of September 30, 2022, serves approximately 800 members and associated institutions across our five-state District of Arkansas, Louisiana, Mississippi, New Mexico and Texas. FHLB Dallas provides financial products and services including advances (loans to members) and grant programs for affordable housing and economic development. For more information, visit our website at fhlb.com.
---
Contact Information:
Corporate Communications
Federal Home Loan Bank of Dallas
fhlb.com
214.441.8445