---
HELP Provides Down Payment Assistance to Santa Fe, New Mexico, Artist
New Mexico Bank & Trust and FHLB Dallas Provide $5,500 in Funding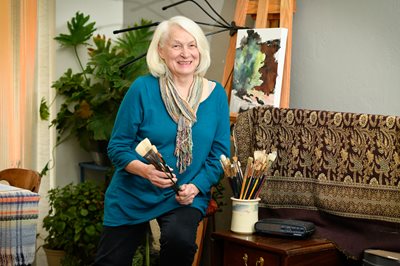 SANTA FE, NEW MEXICO, March 22, 2022 — Artist Anita L. West lives in Santa Fe, a dream city for many artists, but also an expensive place to live.

Ms. West, 77, hadn't owned her own home since she became a renter after the Great Recession, but she never stopped hoping that she would once again have that opportunity.

As rents continued to rise, she began to explore options for buying and connected with a housing assistance agency known as Homewise after hearing about it from a friend.

Homewise, in turn, suggested that Ms. West apply for the Homebuyer Equity Leverage Partnership (HELP), a program of the Federal Home Loan Bank of Dallas (FHLB Dallas) in which down payment and closing cost assistance is provided through FHLB Dallas member financial institutions.

Ms. West was able to move into a one-bedroom condo that she purchased with the aid of a $5,500 HELP subsidy provided by New Mexico Bank & Trust (NMB-T) and FHLB Dallas.

"The HELP funds meant I didn't have to deplete my savings for the down payment, so I still had some reserves and some funds for upgrades," she said. "I also no longer have the uncertainty that comes with rising rents."

NMB-T awarded $115,500 in HELP subsidies in 2021 to 21 people.

"With the way home prices have skyrocketed, programs like HELP are more important than ever for renters wanting to transition into homeownership," said Trevor Lewis, senior vice president and commercial team lead at NMB-T. "We are thankful to have this partnership with FHLB Dallas that is making homeownership a reality."

Greg Hettrick, first vice president and director of Community Investment at FHLB Dallas, said members and housing agencies have done a great job in spreading the word about HELP.

"We are thankful for our partnership with NMB-T; they were a significant user of HELP last year, and continue to utilize the HELP subsidy this year to make homeownership a reality for the people of New Mexico," he said.

For 2022, FHLB Dallas set aside $4 million available through its members on a first-come, first-served basis. Visit fhlb.com/help to view the current availability of HELP funds.

About New Mexico Bank & Trust
New Mexico Bank & Trust, a subsidiary of Heartland Financial USA, Inc., operating under the brand name HTLF, is a community bank with more than $2.6 billion in assets and operates 24 offices located in Central, Northern and Eastern New Mexico as well as Northwest Texas. The bank specializes in business lending and deposit services and provides a wide variety of personal credit and deposit services along with complete electronic banking programs. New Mexico Bank & Trust is a Member of the FDIC and an Equal Housing Lender.

About the Federal Home Loan Bank of Dallas
The Federal Home Loan Bank of Dallas is one of 11 district banks in the FHLBank System created by Congress in 1932. FHLB Dallas, with total assets of $63.5 billion as of December 31, 2021, is a member-owned cooperative that supports housing and community investment by providing competitively priced loans and other credit products to approximately 815 members and associated institutions in Arkansas, Louisiana, Mississippi, New Mexico and Texas. For more information, visit fhlb.com.






---
Contact Information:
Corporate Communications
Federal Home Loan Bank of Dallas
fhlb.com
214.441.8445