---
FHLB Dallas and Wells Fargo Award $1.5M to Foundation Communities
AHP Funds Will Offset Costs to Build Two Austin Apartments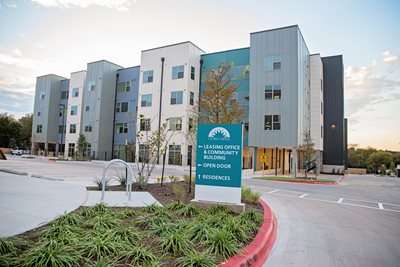 AUSTIN, TEXAS, January 14, 2022 — The Federal Home Loan Bank of Dallas (FHLB Dallas) and Wells Fargo awarded $1.5 million via two Affordable Housing Program (AHP) subsidies for affordable rental developments in the works in Austin, Texas.

Foundation Communities provides affordable, attractive homes and free onsite support services for thousands of families with children, as well as veterans, seniors and individuals with disabilities. The nonprofit owns and operates 23 communities in Austin and North Texas.

Foundation Communities was awarded one $750,000 AHP subsidy to offset construction costs at the $27.5 million, 88-unit Laurel Creek affordable housing apartment development in North Austin, whose construction is nearly complete. It will use the second award of $750,000 for development costs for Parker Apartments, which is in the early development stages in South Austin, according to Walter Moreau, executive director at Foundation Communities.

"With rising development and construction costs, these awards will help us deepen our ability to serve extremely low-income families and individuals without taking on more debt or charging higher rents," he said. "We are grateful to Wells Fargo and FHLB Dallas for the support."

Theresa Alvarez, Wells Fargo senior vice president of Social Impact & Sustainability for Central Texas, said Foundation Communities is known for its innovative approach to providing well-rounded case management at its properties that typically include a learning center, after-school care, tutoring and food pantries.

"In addition to providing affordable and attractive housing, Foundation Communities helps its residents achieve educational success, financial stability and healthier lifestyles with its onsite supportive services," Ms. Alvarez said. "We are pleased to support them on these two developments and look forward to hearing about their future successes."

AHP funds are intended to assist FHLB Dallas members in financing the purchase, construction and/or rehabilitation of owner-occupied, rental or transitional housing and housing for homeless individuals. The funds must be used to benefit households with incomes at or below 80 percent of the median income for the area.

In 2021, FHLB Dallas awarded $18.5 million in subsidies to 26 affordable housing projects. The subsidies will help create 2,113 new or rehabilitated housing units, including almost $7.5 million for 986 units in Texas.
Between 1990 and 2021, FHLB Dallas has awarded $344.6 million in AHP and Homeownership Set-Aside Programs and has assisted nearly 60,000 households.

Greg Hettrick, first vice president and director of Community Investment at FHLB Dallas, said the AHP provides a way for its members to support vulnerable populations, such as the homeless.

"With a portion of these apartments going toward housing previously homeless families, Wells Fargo is supporting the Foundation Communities' work to help extremely low-income families with children recover from homelessness," Mr. Hettrick said. "We are pleased to join them in this worthy cause."

For more information about the AHP, visit fhlb.com/ahp.

About the Federal Home Loan Bank of Dallas
The Federal Home Loan Bank of Dallas is one of 11 district banks in the FHLBank System created by Congress in 1932. FHLB Dallas, with total assets of $60.2 billion as of September 30, 2021, is a member-owned cooperative that supports housing and community development by providing competitively priced loans and other credit products to approximately 800 members and associated institutions in Arkansas, Louisiana, Mississippi, New Mexico and Texas. For more information, visit our website at fhlb.com.



---
Contact Information:
Corporate Communications
Federal Home Loan Bank of Dallas
fhlb.com
214.441.8445