---
Banks Award $750K to Help Build Residential Facility for Recovery Program
BancorpSouth Bank and FHLB Dallas Join Renewal Ranch for Celebration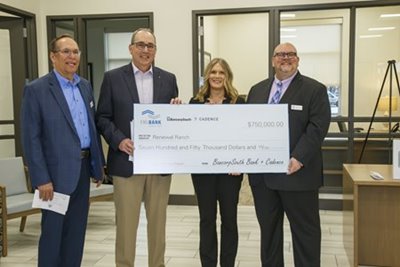 CONWAY, ARKANSAS, February 23, 2022 — A $750,000 Affordable Housing Program (AHP) subsidy awarded to Renewal Ranch from BancorpSouth Bank, a division of Cadence Bank (NYSE: CADE), and the Federal Home Loan Bank of Dallas (FHLB Dallas) will provide funding to build a 42-unit residential facility for men ages 21 and older recovering from drug addiction.

Yesterday, representatives from the organizations gathered at a check presentation to celebrate the funds and Renewal Ranch's 11th anniversary.

Renewal Ranch is a faith-based residential addiction recovery program for men ages 21 and older located on 116 acres near Conway, Arkansas.

"Substance abuse is very widespread right now, and it's tearing up our families and our communities," said James A. Loy, executive director of Renewal Ranch. "The AHP award is a financing game changer for us.

These funds will have a direct impact on our residents giving them a fresh start on life. We are very humbled and grateful to have received this $750,000 award allowing us to fight drug addiction in our community even harder."

Tom Nelson, president, Conway, Arkansas, community bank for BancorpSouth, a division of Cadence Bank, said the funds awarded to the project would go a long way.

"There is a great need for Renewal Ranch's services at a time like today," said Mr. Nelson. "This subsidy, and the facility, will make an everlasting impact on the community. We are thankful to partner with FHLB Dallas to help construct this facility for Conway-area men in need. When the lives of these men are improved so are the lives of those in their respective families."

AHP funds are intended to assist FHLB Dallas members in financing the purchase, construction and/or rehabilitation of owner-occupied, rental or transitional housing, and housing for homeless individuals. The funds must be used to benefit households with incomes at or below 80 percent of the median income for the area.

In 2021, FHLB Dallas awarded $18.5 million in subsidies to 26 affordable housing projects. The subsidies will help create 2,113 new or rehabilitated housing units, including $1.5 million for 102 units in Arkansas.

Between 1990 and 2021, FHLB Dallas has awarded $344.6 million in AHP and Homeownership Set-Aside Programs and has assisted nearly 60,000 households.

Greg Hettrick, first vice president and director of Community Investment at FHLB Dallas, said the AHP is a useful tool for organizations like Renewal Ranch to expand its affordable housing opportunities.

"This $750,000 subsidy provided to Renewal Ranch will help the organization grow its services to people who are struggling with addiction," Mr. Hettrick said. "We are proud to partner and be part of this solution with BancorpSouth Bank through the AHP."

For more information about the AHP, visit fhlb.com/ahp.

About Cadence Bank
Cadence Bank (NYSE: CADE) is a leading regional banking franchise with approximately $50 billion in assets and more than 400 branch locations across the South, Midwest and Texas. Cadence provides consumers, businesses and corporations with a full range of innovative banking and financial solutions. Services and products include consumer banking, consumer loans, mortgages, home equity lines and loans, credit cards, commercial and business banking, treasury management, specialized lending, asset-based lending, commercial real estate, equipment financing, correspondent banking, SBA lending, foreign exchange, wealth management, investment and trust services, financial planning, retirement plan management, and personal and business insurance. Cadence is committed to a culture of respect, diversity and inclusion in both its workplace and communities. Cadence Bank, Member FDIC. Equal Housing Lender.

About the Federal Home Loan Bank of Dallas
The Federal Home Loan Bank of Dallas is one of 11 district banks in the FHLBank System created by Congress in 1932. FHLB Dallas, with total assets of $63.5 billion as of December 31, 2021, is a member-owned cooperative that supports housing and community development by providing competitively priced loans and other credit products to approximately 800 members and associated institutions in Arkansas, Louisiana, Mississippi, New Mexico and Texas. For more information, visit our website at fhlb.com.

---
Contact Information:
Corporate Communications
Federal Home Loan Bank of Dallas
fhlb.com
214.441.8445