---
BankPlus and FHLB Dallas Award Home Repair Subsidy to Mississippi Woman
Special Needs Assistance Program Provided $7K for New Roof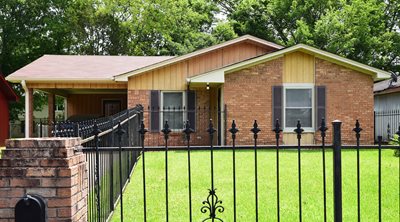 JACKSON, MISSISSIPPI, June 23, 2022 — Mary Holmes, a retired resident of Jackson, Mississippi, is living comfortably in her home again after receiving funding from the Special Needs Assistance Program (SNAP) to replace her roof. After years of uncertainty about how she could afford to replace her aging roof, Ms. Holmes received a $7,000 SNAP subsidy from BankPlus and the Federal Home Loan Bank of Dallas (FHLB Dallas).

The roof was leaking and in desperate need of replacement.

"I've lived in this home for 42 years. It was brand new when I moved in, but as time has gone on, repairs have been needed and it is hard to do that while living on a fixed income," Ms. Holmes said.

Mark Ouellette, first vice president at BankPlus, said keeping residents comfortable and safe within their homes is a priority for the bank.

"Many of our customers have owned their homes for decades and, as repairs come up, we are honored to be able to help secure funding for them through SNAP and are grateful for our partnership with FHLB Dallas to make that happen," he said.

Through member institutions, SNAP provides subsidies for the repair and rehabilitation of owner-occupied housing of eligible, special-needs individuals. FHLB Dallas set aside $1.5 million of its 2022 Affordable Housing Program funds for SNAP subsidies.

"We've been working with BankPlus to distribute SNAP funding to Mississippi families for many years," said Greg Hettrick, first vice president and director of Community Investment at FHLB Dallas. "They understand the impact this program has toward enabling residents live independently and safely within their homes."

For more information about the SNAP, visit fhlb.com/snap.

About BankPlus
Founded in 1909, BankPlus is one of the Southeast's premier regional banks serving consumers and businesses with the latest technology through a full suite of financial services, including retail banking, commercial banking, mortgage lending and wealth management. With over $6.5 billion in total assets, BankPlus operates more than 90 financial centers throughout Mississippi, Alabama and Louisiana. For more information about BankPlus, visit bankplus.net.

About the Federal Home Loan Bank of Dallas
The Federal Home Loan Bank of Dallas is one of 11 district banks in the FHLBank System created by Congress in 1932. FHLB Dallas, with total assets of $62.6 billion as of March 31, 2022, is a member-owned cooperative that supports housing and community development by providing competitively priced loans and other credit products to approximately 800 members and associated institutions in Arkansas, Louisiana, Mississippi, New Mexico and Texas. For more information, visit our website at fhlb.com.


---
Contact Information:
Corporate Communications
Federal Home Loan Bank of Dallas
fhlb.com
214.441.8445