---
$10K HAVEN Grant Helps Texas Army Veteran with Home Repairs
First National Bank Texas and FHLB Dallas Fund Home Repairs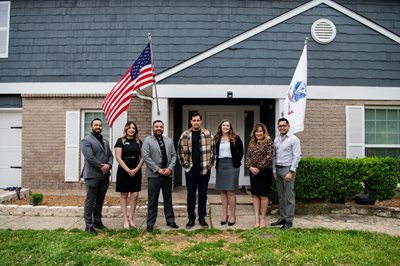 SAN ANTONIO, TEXAS, March 30, 2022 — U.S. Army veteran Corey Kiefer saw things no one would ever want to see in his role as a mortuary specialist at Dover Air Force Base where the remains of fallen U.S. military personnel arrive from combat zones before being transferred to family members.

Preparing the remains of fallen soldiers and cataloging their personal effects took its toll, causing post-traumatic stress disorder that today can be activated when the old floors in his San Antonio floor squeak as people walk across them.

Now, Mr. Kiefer has new floors, quiet vinyl planks, throughout his home, thanks to a $10,000 Housing Assistance for Veterans (HAVEN) grant from First National Bank Texas (FNBT) and the Federal Home Loan Bank of Dallas (FHLB Dallas).

HAVEN funds assist with necessary modifications to homes of U.S. veterans and active-duty, reserve or National Guard service members who became disabled as a result of their military service since September 11, 2001. Alternatively, the funds can be awarded to Gold Star Families that were impacted during this time frame for home repairs/rehabilitation.

The two banks and the Kiefer family gathered for a celebration of the grant this week at the Kiefer home where Mr. Kiefer lives with his wife, Naya, and three active boys, all under the age of 9.

"I was Googling home repair assistance when I came across the HAVEN grant and decided to pursue more information," said Mr. Kiefer who supports his family on his military benefits. "FHLB Dallas gave me a list of banks that could help me, and when I reached out to First National Bank Texas, they were just amazing to work with."

April Niswonger, assistant vice president at FNBT, said the grant to Mr. Kiefer was a meaningful experience for everyone involved.

"As a community bank, this was an impactful experience for us, and we are thrilled that we were able to help Mr. Kiefer with home renovations," she said. "Taking care of soldiers and their families is a high priority for us, and the HAVEN grant is a perfect way to do that."

Greg Hettrick, first vice president and director of Community Investment at FHLB Dallas, says HAVEN is a unique program because it specifically reaches certain military veterans and their families.

"We are thankful for FNBT and its interest in stepping in to help Mr. Kiefer," he said. "We'd like to encourage other FHLB Dallas members to consider the HAVEN grant as a way to give back to our men and women of the armed forces."

About First National Bank Texas
First National Bank Texas (FNBT) is dedicated to providing customers with quality financial products and services. The bank was founded in 1901 in the Central Texas town of Killeen and has grown to over $3.7 billion in assets and operates in over 340 locations in Texas, Arizona, Arkansas, and New Mexico.

About the Federal Home Loan Bank of Dallas
The Federal Home Loan Bank of Dallas is one of 11 district banks in the FHLBank System created by Congress in 1932. FHLB Dallas, with total assets of $63.5 billion as of December 31, 2021, is a member-owned cooperative that supports housing and community development by providing competitively priced loans and other credit products to approximately 800 members and associated institutions in Arkansas, Louisiana, Mississippi, New Mexico and Texas. For more information, visit our website at fhlb.com.



---
Contact Information:
Corporate Communications
Federal Home Loan Bank of Dallas
fhlb.com
214.441.8445